2023 Most Affordable Online Associate Degrees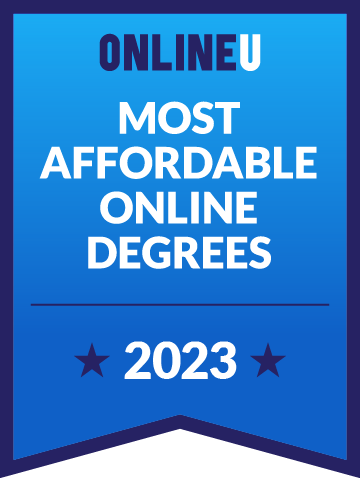 An online associate degree is a great stepping stone to achieving a four-year college degree, and it's offered at many two- and four-year institutions. Students typically take around two to three years to complete this degree, depending on whether they are on a part- or full-time schedule. With an online associate degree, students can complete their coursework while managing other obligations, like work or family. Many colleges offer these programs in areas of study like business administration, behavioral science, computer science, and journalism.
Our rankings help students determine which colleges provide the most affordable online associate degrees that provide high quality education from accredited institutions that are within their budget. View our methodology for details about rankings or learn more about us. You can also check out our overall list of the best online associate degrees for additional inspiration.
All tuition numbers were manually collected and verified
Rank
School

Locations

Annual Tuition

# 1
Allen County Community College
Iola (KS)

(and 1 other)

$2,013

# 2
Kansas City Kansas Community College
Kansas City (KS)

(and 1 other)

$2,821

# 3

(tie)

Albany State University
Albany (GA)

$2,850

# 3

(tie)

Georgia State University - Perimeter College
Decatur (GA)

$2,850

# 5
Clovis Community College - NM
Clovis (NM)

$3,404

# 6
Highland Community College - KS
Highland (KS)

$3,552

# 7
Ohio University - Main Campus

Athens (OH)

$3,645

# 8
McHenry County College
Crystal Lake (IL)

$3,795

# 9
Southeast Community College
Lincoln (NE)

(and 1 other)

$3,936

# 10
Waubonsee Community College
Sugar Grove (IL)

(and 2 others)

$3,960
What Is an Associate Degree and Can I Earn One Online?
Associate degrees are available from community colleges, technical colleges, and some four-year universities. These programs typically require 60 credits to complete and are shorter than bachelor's degree programs that require 120 credits. Having an associate degree opens the door to higher salaries than a high school diploma or GED alone. Graduates are prepared to enter the workforce or continue their education by pursuing a bachelor's degree at a four-year university.
Some careers that you can qualify for with an associate degree:
Payroll clerk
Occupational therapy assistant
Radiologic and MRI technologists
Computer support specialist
Web developer
Civil/architectural drafter
Online associate degrees are available in various disciplines, including business, science, healthcare, liberal arts, and technology. The typical prerequisites for an associate program are that applicants are at least 18 years old and have a high school diploma or GED. Students may also be required to submit SAT/ACT test scores before applying and take placement tests once they are enrolled in a program.
Online associate programs are flexible so you can continue to earn an income while completing your degree. Asynchronous coursework allows you to complete coursework when convenient on the college's learning platform, where you can submit assignments and interact with classmates and instructors through email or discussion forums.
Types of Associate Degrees
There are several types of associate degree programs available, including an Associate of Arts (AA), Associate of Science (AS), and an Associate of Applied Science (AAS). Each of these degrees is outlined below in greater detail. Typically, AA and AS programs provide students with the general education requirements needed to transfer into a bachelor's degree program. An AAS provides students with vocational training for specific occupations.
Associate of Arts (AA)
AA degrees are the most flexible degree program with fewer math or science requirements and more electives than an AS degree. Students are required to complete courses in liberal arts and social science with some mathematics and general science courses. AA degrees provide students with foundational knowledge that will allow them to apply their credits toward a Bachelor of Arts degree or seek entry-level careers in a broad range of fields.
Associate of Science (AS)
AS degrees are designed for students interested in technical fields, such as engineering, computers, science, and mathematics. Students in these programs have fewer electives and take more math and science courses. Graduates often have the prerequisites necessary to apply to a Bachelor of Science program at a college or university or pursue entry-level job opportunities in the technology, business, or engineering fields.
Associate of Applied Science (AAS)
AAS degrees prepare students for a particular profession after graduation, such as office administration, nursing, dental hygiene, manufacturing, and law enforcement. The majority of classes in these programs aim to develop vocational skills applicable to a specific career path, so these degrees are not designed to be transferable. However, students may be able to transfer credits into a bachelor's degree program by contacting the school's admissions office and asking if they offer free transfer credit evaluation.
Accreditation
One of the most important things to determine when applying to an online associate program is whether the school is accredited. To receive institutional accreditation, colleges or universities must undergo rigorous peer-review by independent agencies and demonstrate high educational standards. Schools can be accredited at the regional and national levels, with regional accreditation considered the more prestigious of the two. Regardless of the level of accreditation, the following benefits are associated with enrolling in an accredited school:
You are eligible for federal financial aid
You will receive a high-quality education
Your credits can be transferred to another accredited college or university
Your degree will be respected in your field, which can qualify you for employment or certification after graduation
Students can determine if their online program is accredited by going directly to the school's website or contacting the admission office. Another option is to search for the school in the Database of Accredited Postsecondary Institutions and Programs (DAPIP) offered by the U.S. Department of Education.
We require that all schools on our site be accredited at the institutional level. You can see each school's accreditation on our rankings lists as shown below: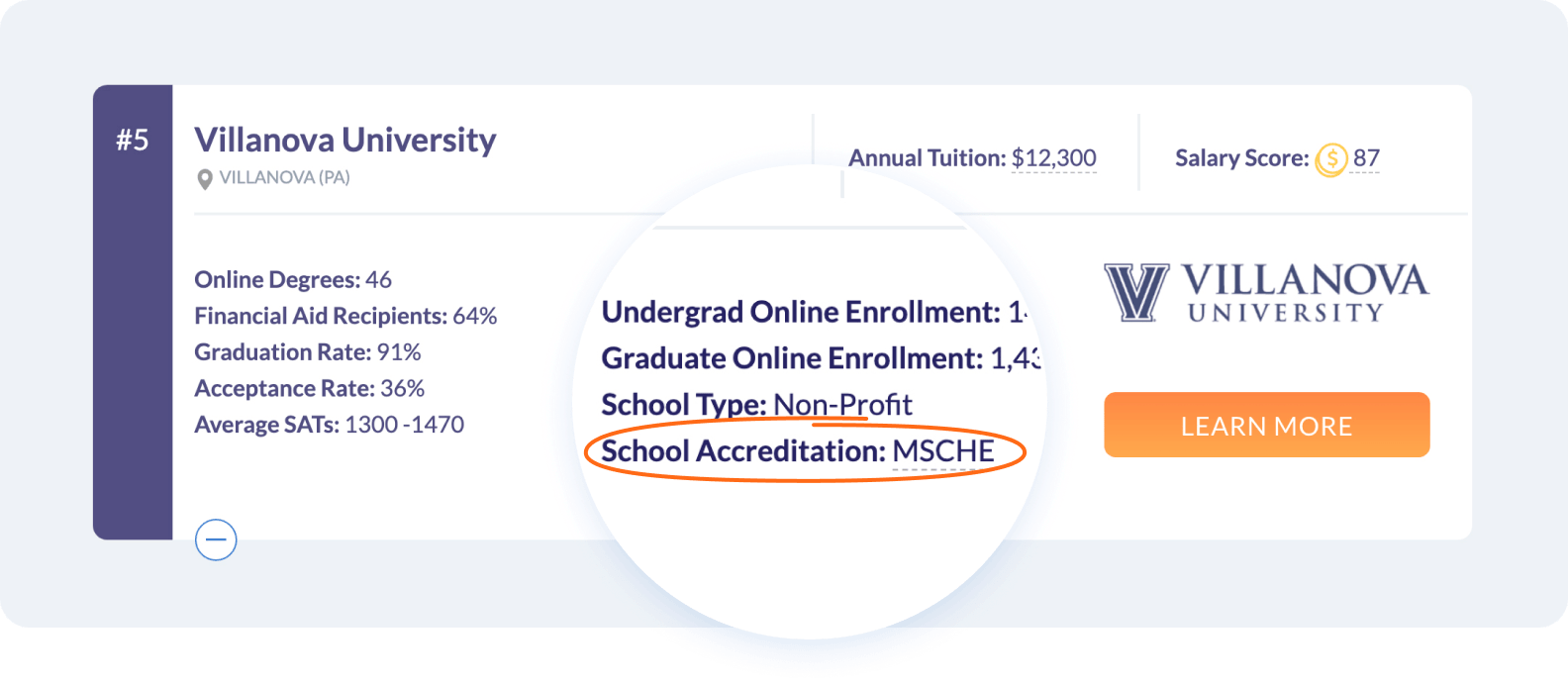 How Long Does It Take to Earn an Associate Degree Online?
You can typically complete an associate's degree program online in two years if you are enrolled full-time. Some colleges offer accelerated programs that you can complete in one and a half years or less. Other ways to shorten your degree completion time and save on tuition is to maximize the number of transfer credits. You can do this by determining whether your college offers credit for prior learning through examination or previous professional or military experience. The College Level Examination Program (CLEP) is accepted at over 2,9000 colleges and allows students to test out of introductory-level college courses by passing exams offered in 34 subjects.
Associate Degree Quick Facts
Average Credits: 30 - 40
Average Duration: 2 years
How Associate Degrees Fit Within the Broader Higher Education Picture
AA and AS degrees are offered by two-year institutions and designed so that graduates can further their education by transferring their credits towards a bachelor's degree program at a four-year institution. Many community colleges offer direct transfer agreements with local universities to make the transition as seamless as possible. Both online and in-person associate degree programs are eligible for this direct transfer program. If you're unsure whether your college offers this program, be sure to contact your academic advisor for more information.
You can often lower the total cost of earning a bachelor's degree by completing your general education requirements at a community college since the per-credit tuition rate at two-year institutions is typically lower than at a four-year university. While you are not required to enroll in a bachelor's program right after graduation, your online associate degree acts as a stepping stone to pursue an advanced degree in the future.
While you are not required to enroll in a bachelor's program right after graduation, your online associate degree acts as a stepping stone to pursue an advanced degree in the future.
Popular Online Areas of Study
Associate degrees prepare graduates for careers in a range of industries. The National Center for Education Statistics (NCES) states that the most popular associate degrees in 2017-18 were in the following fields: liberal arts and sciences, healthcare, and business, followed by criminal justice and computer and information sciences. We list several popular online associate programs below and include information on online courses, prerequisites, careers, and median earnings for each degree.
The prerequisites for the following associate programs include a high school diploma or GED. You may be required to provide your SAT/ACT scores and take placement tests once accepted into the program. Placement tests assess your academic skill level in various subjects, such as math, science, and English, to place you in the correct class. All of the programs indicated below take two years to complete, or one and a half years if an accelerated program is offered. Salary data is provided by the Bureau of Labor Statistics(BLS).
How Much Does an Online Associate Degree Cost?
The cost of an online associate degree varies depending on several factors, including the type of program (online or in-person), the type of institution (private, public, or for-profit), and whether the student qualifies for the in-state or out-of-state tuition rate. The National Center for Education Statistics (NCES) reports that the average tuition across all two-year colleges in 2017-2018 was $10,704 per year. The tuition rate was lowest for public institutions at $10,281 and highest for nonprofit and for-profit schools at $25,596.
Of the schools we researched in order to rank the most affordable online associate degrees, the median annual tuition is $8,220 at public schools and $14,850 at private universities.
While NCES data may be a helpful starting point, it is not specific to online programs. What an online student will pay is sometimes substantially lower than these numbers. Many schools offer a reduced per-credit rate for online programs, which offers online students a lower rate regardless of their location. Of the schools we researched in order to rank the most affordable online associate degrees, the median annual tuition is $8,220 at public schools and $14,850 at private universities.
Online students may also save money since they do not have to pay on-campus fees; however, online students may be charged additional technology or distance learning fees. Because online degree programs are designed to be flexible, students can complete coursework on their own time and still work while completing their degree, which can further help offset overall education costs.
Funding an Online Associate Degree
Students enrolled in an online associate degree program have several options to fund their degree, including federal aid, scholarships, and employer assistance programs. Students must be enrolled in the program at least part-time to be eligible for governmental aid.
Students can apply for federal financial aid by filling out a FAFSA form, and awards range from grants to loans and work-study awards. Students exhibiting great financial need may also qualify for state aid by submitting the FAFSA form. While grants, such as the Pell Grant, do not need to be paid back as long as the student maintains satisfactory academic standing, loans will need to be paid back with or without interest, depending on whether an unsubsidized or subsidized loan is awarded. Finally, work-study programs are federal partnerships with local businesses or organizations that allow students to earn money and gain real-world experience while they are attending college.
Community colleges and outside organizations offer students various scholarships based on merit, financial need, or program. Like grants, scholarships do not need to be repaid. Institutional aid (scholarships or awards offered by colleges) may have additional requirements that require the student to maintain a satisfactory GPA. Contact your school's financial aid office to determine whether you are eligible for any scholarships or awards. There are also many scholarships offered by outside organizations or agencies for students at the associate degree level. CareerOneStop is an excellent resource for students to search for education awards by degree level, type, and location.
Employer Tuition Assistance
Some employers offer tuition assistance or reimbursement programs to their employees as a yearly benefit. For example, major employers, including Walmart and Disney, are partnered with Guild Education to offer their employees access to various non-profit online programs at a reduced cost. Contact your employer or your HR department to determine whether any educational benefits may be available to you.
What Is the Best Online Associate Degree to Get?
Determining which associate degree is best for you depends on several factors, such as your future goals and interests, long-term employment opportunities, and salary outlook. For example, if you would like to jump-start your career, an AAS degree may be the best choice; however, if you're interested in eventually pursuing a bachelor's degree, you should consider an AA or AS degree program.
Identifying your interests and skill set is also a necessary step before choosing an associate degree program. CareerOneStop offers several assessment tools to help you learn about possible career options that are a good match for you. You can also network with professionals in your intended career path to get a firsthand account of their work experience. Having networking connections may be helpful when you are ready to begin the job search process.
The best program for you might also be one that prepares you for a career in a growing industry, bettering your chances of landing a job and salary that matches your goals. According to the BLS, several high-earning jobs that require an associate degree are occupational therapy assistants, respiratory therapists, and medical sonographers. These occupations are expected to grow by at least 12%, three times more than the average 4% for all occupations, and earn a median salary of over $60,000 per year.
Which Associate Degree Pays the Most?
Students may wonder which associate degrees will lead to high-paying careers, which is understandable given the financial investment and time it takes to earn a degree. Many of the associate degrees that lead to the highest paying jobs are in healthcare and computer and information science. The following list ranks the top five lucrative jobs that require an associate degree with annual median salaries of over $70,000 in 2019, as reported by the BLS and Payscale.
Median Annual Salary:
$85,560
Radiation therapists administer radiation treatments to patients with cancer and other diseases. They educate and prepare patients for the procedure and operate the equipment that delivers the radiation treatment.
Nuclear Medicine Technologists
Median Annual Salary:
$77,950
Nuclear medicine technologists administer radioactive drugs, known as radiopharmaceuticals, to patients and then use imaging equipment to take scans of the medication in the patient's body. These scans are used by physicians to diagnose disease or infection.
Median Annual Salary:
$76,220
Dental hygienists clean and polish patient's teeth and check for diseases, such as gingivitis. They also take x-rays, document dental treatment plans, and educate patients on proper oral hygiene.
Web Developers and Designers
Median Annual Salary:
$73,670
Web developers and designers are responsible for creating and monitoring the functionality of websites to ensure that they perform as intended. Professionals may also design a website's navigation and layout.
Median Annual Salary:
$66,317
Computer programmers write and update code in several programming languages, such as C++ and Python, for various applications and programs. While many computer programmers have a bachelor's degree, some employers may hire applicants with an associate degree in the field.
Learn more about online computer science associate degrees.
Related Articles
2023 Most Affordable Online IT Associate Degrees
Discover the most affordable colleges for online associate degrees in information technology on our 2023 list.
2023 Most Affordable Online Associate Degrees in HR
Our 2023 list shows the most affordable colleges for online associate degrees in human resources based on manually collected tuition.