2023 Most Affordable Online Bachelor's Degrees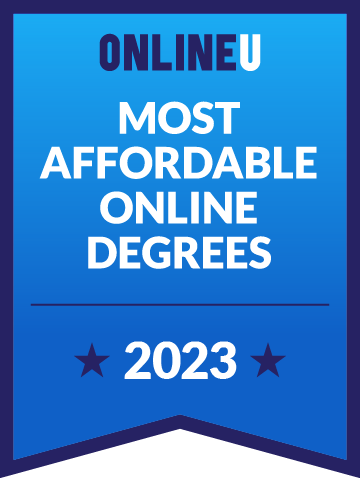 Without a doubt, bachelor's degrees open doors to higher salaries and lower unemployment rates. According to the Bureau of Labor Statistics, individuals with bachelor's degrees earn a median of $1,334 per week, as opposed to a median of $809 per week for those with a high school diploma. That adds up to about $27,300 more per year. However, earning a bachelor's degree requires a significant investment of time and money, which can be challenging.
To help you, we've compiled a list of the most affordable schools offering accredited online bachelor's degrees. Considering an online option may give you enough flexibility to fit college into your schedule, plus it allows you to select from a wider range of options beyond those available in your area.
View our methodology for details about rankings or learn more about us. You can also check out our overall list of the most affordable online degrees for some inspiration.
All tuition numbers were manually collected and verified
| Rank | School | Locations | Annual Tuition |
| --- | --- | --- | --- |
| # 1 | Athens State University | Athens (AL) | $6,975 |
| # 2 | Columbia Southern University | Orange Beach (AL) | $7,050 |
| # 3 | University of the Potomac | Multiple Locations | $7,200 |
| # 4 | Western Governors University | Salt Lake City (UT) | $7,452 |
| # 5 | Thomas Edison State University | Trenton (NJ) | $9,278 |
| # 6 | Waldorf University | Forest City (IA) | $9,300 |
| # 7 | Southern New Hampshire University Online | Manchester (NH) | $9,600 |
| # 8 | University of Maine at Augusta | Augusta (ME) | $9,862 |
| # 9 | Colorado State University Global | Greenwood Village (CO) | $10,500 |
| # 10 | Granite State College | Concord (NH) | $10,950 |
Overview: Online Bachelor's Degrees
Is It Possible to Get a Bachelor's Degree Online?
Online learners comprise a significant portion of total undergraduate students in the U.S., with 34% taking at least some online courses and 14% taking exclusively online courses. The COVID-19 pandemic drove many traditional campus students into distance education in 2020, an experience that may spur colleges to both increase and improve their online offerings. Online education is clearly here to stay. But what can students expect from an online bachelor's program?
Most colleges design bachelor's degrees to take four years (usually 120 semester credits), whether they're offered online or in person. The admissions requirements include a high school diploma or equivalent, a minimum GPA, and possibly a minimum score on either the ACT or SAT (though not all schools require admissions tests).
Students may wonder what the online learning environment will be like. In contrast to traditional classrooms, where students and faculty gather for lectures, discussions, and exams, most online programs offer asynchronous coursework and instruction. Students view lectures and complete coursework at convenient times rather than live. Faculty are still required to hold office hours, though meetings may take place over the phone or video conference.
If you decide that the online learning environment seems like a good fit for you, there are three types of institutions where you can earn an online bachelor's degree: public, private non-profit, or private for-profit colleges.
Public colleges receive part of their budget from state taxes and funnel the money they earn back into the school after covering operating expenses.
Private non-profit colleges also channel earnings back into the school.
Private for-profit colleges pay money to shareholders and are run more like businesses. They made early headway in the distance learning space, but the others are catching up.
Bachelor's Degree Quick Facts
Average Credits: 120
Average Duration: 4 years
Choosing an Online Program
Before deciding where to study, you may want to consider what to study, though you can usually make this decision during college or change your mind while attending. According to the National Center for Education Statistics (NCES), the most popular majors are in business, assorted health disciplines (e.g., nursing and health information management), social science, psychology, and the biological sciences. We offer lists of the most affordable online bachelor's degrees in all these subjects and more.
Depending on your choice, you may pursue a bachelor of arts (B.A.) or bachelor of science (B.S.) degree. B.A.s generally interrogate a subject through a humanities lens, asking students to think critically by examining the historical, social, and philosophical context behind a topic. B.S. degrees are more common in the science, technology, engineering, and mathematics (STEM) disciplines, in which students conduct experiments and analyze numerical data to draw conclusions.
You can choose a major that interests you, that will help secure the kind of job you want, or that can translate to several kinds of careers. There are many factors to weigh, but you normally won't need to declare your major until your second or third year of college. Some programs have limited capacity and you'll be asked to declare during the application process. A school's website will make it clear if this is the case, and will detail any special application procedures.
Can You Get a Bachelor's Degree in Two Years Online?
There are two ways to get a bachelor's degree in just two years online: attending a school with an accelerated option or transferring credits from an associate degree program.
Some schools structure online degrees to have eight-week terms instead of traditional 15-week semesters, which allows students to complete more classes per year. To finish in two years at a school with eight-week terms, the college also needs to allow students to take three courses at a time, which is more than the typical course load. It takes discipline to complete a degree on this accelerated schedule, along with the means to study full time.
If you've earned an associate degree at an accredited school, you may be able to complete online bachelor's degree requirements in two years. Some schools allow students to transfer up to 90 credits, so check the credit transfer policy for each school you're considering.
Finding an Accredited Undergraduate Program
Colleges that earn national accreditation have proven that they've periodically met quality standards set by the Department of Education. Regional accreditation is even more highly sought-after because it allows students to easily transfer credits between institutions accredited by one of the seven regional-accrediting bodies (one accrediting body for two-year colleges and six for four-year colleges in different areas of the country). Individual programs may also earn programmatic accreditation from organizations that specialize in particular subjects. For example, the #6 most affordable school, Western Carolina University, is regionally accredited by the Southern Association of Colleges and Schools Commission on Colleges and programmatically accredited by the Commission on Collegiate Nursing Education for its online B.S. in nursing (among several other accredited programs).
You may want to check a school's accreditation first during your research, because it's a good baseline indicator of a school's quality. Attending a nationally accredited school means you can apply for federal financial aid, and attending a regionally accredited school ensures easier credit transfer if you decide to switch schools or pursue a graduate degree. Every school on our site is nationally or regionally accredited, and you can find the accrediting bodies that certify them listed below our rankings lists.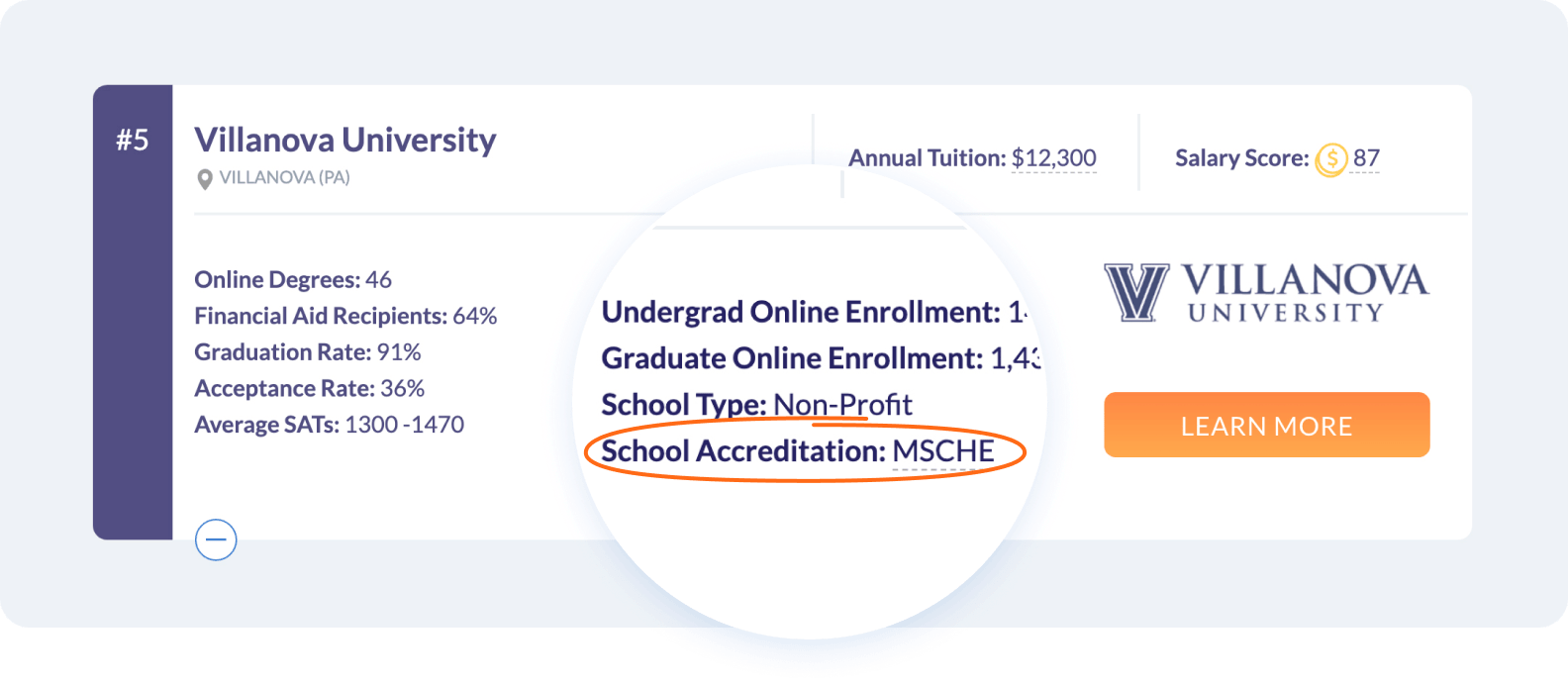 Cost of an Online Degree
How Much Does an Online Bachelor's Degree Cost?
Of the schools we researched in order to rank the most affordable online bachelor's degrees, the median annual tuition is $11,728 at public schools and $13,950 at private institutions.
In general, online tuition is lower than tuition for on-campus programs at both private and public institutions because schools can increase their enrollment without making large infrastructure upgrades. In addition, public schools sometimes charge the in-state tuition rate regardless of an online student's residency (e.g., at #2 Clayton State University).
During a school search, you can estimate the total price by calculating the tuition cost per credit hour at a given school and multiplying this by the total number of hours needed to graduate (usually 120 for bachelor's degrees). Then add any fees noted on a school's website, such as technology fees, e-books, or equipment rental — you'll often find these fees in the tution or financial aid sections of a school's site. Financial aid can help alleviate some costs.
How Can I Get My Bachelor's Degree Online for Free?
You're unlikely to find a program that's completely free, but some colleges do offer competitive merit-based scholarships or need-based grants that cover 100% of tuition and leave the student responsible only for additional fees. There are also tuition-free online colleges, but tuition is not the whole story. These schools often charge course-completion fees and other costs, which may still add up to less than the typical cost of tuition at other colleges. However, always make sure you check the accreditation of any school you're considering — some tuition-free colleges aren't accredited. The Council for Higher Education Accreditation (CHEA) reviews accrediting organizations to make sure they maintain high standards and features a search tool where you can check the status of schools, programs, and accrediting bodies.
What Is the Most Affordable Way to Get a Bachelor's Degree?
Online degrees usually cost less than in-person degrees, so review the colleges on our most affordable online bachelor's degrees list for any that interest you. Also review the available financial aid options, especially funding that doesn't need to be repaid, such as scholarships and grants. You can earn credits at a two-year college and transfer them toward a bachelor's degree, because community colleges tend to have relatively low tuition. Most transfer students move to four-year colleges before graduating with an associate degree, but completing the two-year program can provide a more affordable option. Make sure to attend an accredited junior college and choose a bachelor's program that accepts at least half the total credits from outside (many online programs allow up to 90 out of 120 credits).
Funding an Online Bachelor's Degree
Higher education is more expensive than ever, but most students secure at least some financial aid to ease the burden. In the 2018-2019 academic year, 86% of undergraduates accepted federal, state, institutional, or private funding to help pay for their degrees. The types of financial aid vary greatly, and the most sought-after forms are need-based grants and merit-based scholarships. These funds reduce future debt because they don't need to be paid back, so it's best to exhaust these opportunities before turning to loans that require repayment with interest. Prospective students might also choose a federal work-study program in which they work part-time for their college in order to receive a tuition grant.
Online students can pursue all of these options, though work-study may not be possible unless they live near their school. In addition, some scholarships may be specific to campus-based students (though others may be tailored to online students). Finally, state aid is usually unavailable to online students who don't live in their college's home state. Check your institution's financial aid page to learn what's available and how to apply, and call the financial aid office if you have questions that the site doesn't answer.
Careers for Online Graduates With a Bachelor's Degree
What Are the Highest Paying Online Degrees?
In general, earning a degree will set you up for a higher paying job. Professionals with bachelor's degrees earn more than those without (a median of $500 more a week than workers with a high school education).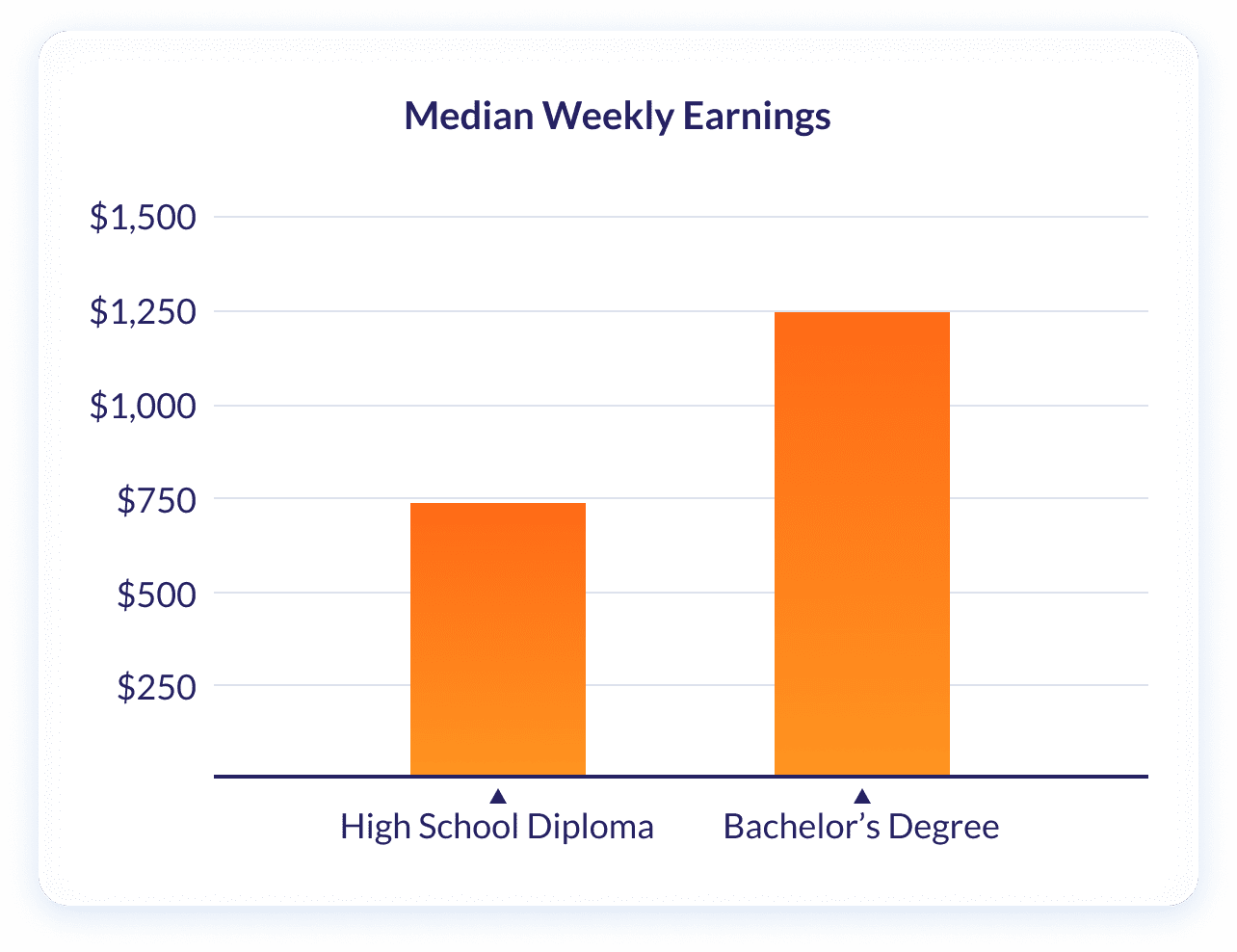 Payscale's College Salary Report details the high salary potential of a bachelor's degree in any type of engineering, with petroleum engineering strong in both early-career and mid-career pay. Operations research and business computing graduates tend to land high-paying jobs early in their careers as well.
The Bureau of Labor Statistics (BLS) also breaks down the highest paying occupations by the level of education required for entry. This might be a helpful resource, but the data on the bachelor's degree chart requires some nuance. BLS lists chief executives and several types of business managers among the highest earning jobs requiring a bachelor's degree for entry, but people in these positions often earn master's degrees and work for years before reaching the highest levels of pay.
Are Online Bachelor's Degrees Worth It?
Bachelor's degrees lead to higher wages and reduced unemployment over the course of a career, and the stigma around online education is decreasing as more schools create accredited online-only programs. The COVID-19 crisis could accelerate this process, but HR managers were warming to online degrees even before the pandemic forced college students into remote learning: a 2019 survey reported that 61% viewed online and in-person degrees equally. Still, most colleges understand the lingering perception of low-quality online degrees, so many of them use identical transcripts and diplomas for online and traditional students (e.g., Southern Utah University).
Any degree requires a significant upfront investment in money and time, even if the salary and employment security benefits pay off in the end. If you do decide to earn a degree, your learning style may not be conducive to remote education or you may be admitted to an on-campus program that you feel is a better fit. Undergraduate degrees can confer many benefits, but you have a wealth of choice in where and how you study — only you can decide whether an online program is worth it for you.
Related Articles
2023 Most Affordable Online Colleges & Degrees
The top affordable online colleges of 2023. Find cheap online associate, bachelors, master's, and doctoral degrees.
2023 Most Affordable Online Management Degrees
Learn about the most affordable colleges for online degrees in management at the bachelor's level.