Guide to Financial Aid for Online Students
There's no doubt that while investing in a degree can significantly increase your earning potential, going to college can be quite expensive. According to the National Center for Education Statistics (NCES), the cost of getting a degree at both private and public two- and four-year institutions has been steadily rising in the last decade — with some students paying as much as 18% more in fees now as compared to 2010.
It's easy to be intimidated by hefty tuition rates, but paying for school is not an impossible feat. Careful planning and access to the right resources can help you avoid taking out expensive student loans. In short, there are billions of dollars given each year in financial aid to make college more affordable. One simply needs to find them.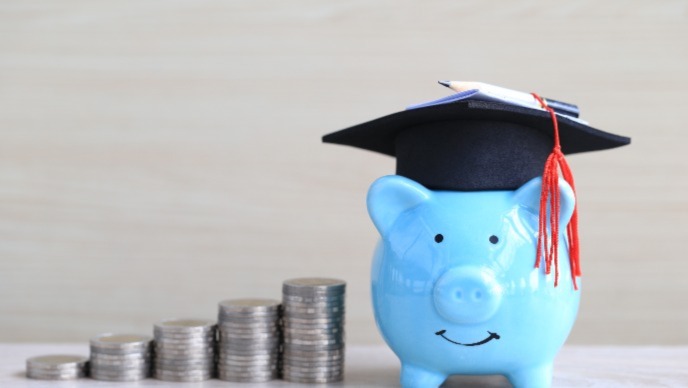 What is Financial Aid?
Financial aid helps students pay for the cost of attending a postsecondary institution. This assistance is typically used to cover all or part of tuition and other fees; though, depending on the funding source, you may also use it for other expenses such as transport, rent, or school supplies. In other words, financial aid is meant to make college more accessible by reducing some of the economic barriers associated with earning a degree.
Financial aid is meant to make college more accessible by reducing some of the economic barriers associated with earning a degree.
Different Types of Financial Aid
On any given day, almost 20 million people in the U.S. are pursuing a degree, and 87% of them rely on financial aid to do it. Funding for higher education can come in many different forms. The most common types are grants, scholarships, federal work-study, and loans.
Grants are sums of money awarded by federal and state institutions as well as universities and private companies that do not need to be repaid. These are typically one-time awards of varying amounts that are given to students who have financial need and/or meet minimum academic requirements. In most cases, you can use grant dollars to pay for anything academically related, including tuition, fees, books, or housing costs.
Like grants, scholarships are free sources of funding awarded by various public and private organizations to students who have special skills, participate in extracurricular activities, have a financial need, or aspire to meet specific career goals. Unlike grants, scholarships may be awarded for a given time period — such as a semester or a full academic year — and can sometimes be renewed based on academic performance. Scholarships are primarily used to pay for tuition fees and are a good option for out-of-state and international students who may not qualify for federal or state grants.
Often included as part of a federal financial aid package for both undergraduate and graduate students, work-study is a form of funding where students can offset the cost of college by working part-time. Students apply for preapproved on- and off-campus jobs, earn a paycheck, and use their earnings to pay for tuition, transport, rent, or other school expenses. Some online schools offer work-study positions for distance learners on their campuses or with community partners. Students who qualify should check with their school's financial aid office to see if there are positions available.
Student loans are often a necessity to cover the cost of attending college. After graduation, however, many students struggle to navigate the sometimes complicated landscape of loan repayment. Federal and private student loans are generally the least popular of the financial aid options because borrowers must repay them. Interest rates and repayment rules vary depending on the lender, and federally-funded loans are typically the most popular for students because of their low interest rates and flexible repayment schedules. Although several private lenders offer education loans as well, these are the less favorable options due to higher repayment rates.
Applying for Financial Aid
Given that there are multiple forms of aid available, it's important to know exactly how to apply for funding to make the most of your options. It's best to start early and begin looking for assistance in your final year of high school, as some states award funds until the money runs out and many have their own deadlines. Submitting applications as soon as possible after October 1st the year before you plan to attend college can help ensure you secure the maximum amount of aid. Below are a few tips that can help you navigate the process.
Tip 1: Fill Out the FAFSA
The most integral step in applying for any kind of funding — be that in the form of grants, scholarships, work-study, or loans — is to fill out the Free Application for Federal Student Aid (FAFSA). This online form collects information about a student's financial circumstances to determine how much money they and/or their family can contribute to the cost of higher education. It acts as a central application for most forms of aid and allows funders to calculate how much assistance a student will need. Many funding organizations and schools use the FAFSA to determine what kinds of aid you're eligible for, so it's essential to fill out this form correctly and on time.
Tip 2: Get Information from the Schools You're Interested In
Learning about the aid opportunities available at your prospective college or university can make the process of applying for assistance much smoother. Grants and scholarships awarded by schools to incoming and continuing students typically have a smaller pool of applicants, making them easier to secure. You can find out more about your funding options at a specific postsecondary institution by speaking to your high-school counselor or contacting the college or university's financial aid department.
Tip 3: Talk to Your Local Librarian
Librarians can help students find resources for financial aid and college applications, and some library systems also have counseling centers specifically for this purpose. For instance, a librarian may be able to direct you to a database of grants and scholarships available to students based on their enrollment status, degree level, and the ethnic or racial group they identify with. If you are not currently enrolled in a high school with counselors, visiting your local library is an excellent alternative to learn more about financial aid.
Tip 4: Rely on Grants and Scholarships First
The best kind of financial aid is the kind that doesn't have to be paid back, regardless of the amount or duration of assistance. Grants and scholarships, for example, are essentially free sources of money that are available to high achievers and/or those who need help to pay for school. They don't require you to repay your funder or work in return for support. When applying for funding, it's therefore essential to prioritize these forms of assistance as they will allow you to focus full-time on your schoolwork.
Tip 5: Use Loans as a Last Resort
With student debt soaring to roughly $29,000 per borrower, it's important to know how to earn your degree without borrowing too much money. Using loans as a last resort is the best way to limit your exposure to potentially drawn-out repayment plans that take money away from future earnings. If you have no option but to take out a loan, use federal student loans to cover costs like tuition and only take out private loans as a last resort. Federal loans provide many benefits for borrowers, including fixed interest rates and income-driven repayment plans, that private loans may not offer.
Qualifying for Financial Aid
Different types of aid have varying eligibility requirements for applicants. In general, to receive federal grants or scholarships you must be a U.S. citizen or eligible non-citizen, such as a U.S. national, lawful permanent resident, or refugee. You must also have a high school diploma or equivalent, demonstrate financial need, and be enrolled or accepted in an accredited degree or certificate program.
On the other hand, prerequisites for receiving state aid vary based on the jurisdiction. For instance, all fifty states have their own specific laws about whether undocumented students and DACA recipients are eligible for public assistance. Furthermore, while international students generally don't qualify for state aid, they may have access to institutional funding from their college or university.
Beyond these legal provisions, funders typically expect applicants to meet academic requirements such as a minimum GPA or previous coursework in certain subjects. Moreover, students may need to demonstrate financial need for certain grants and scholarships. Lastly, professional organizations often fund students who plan to complete their degree in a specific discipline or work in a particular field.
Does My School Accept Financial Aid?
Always check to see if the school you're interested in accepts FAFSA and is authorized to disburse federal student aid. The easiest way to do this is to check a school's tuition and financial aid hub. Most will have information on federal financial aid, including a link to the FAFSA with their school code. If you cannot find any information listed on their website, contact their financial aid office directly.
Some programs may have specific enrollment requirements, such as taking classes full or half-time, for students to receive certain types of financial aid. These enrollment requirements can be difficult for online learners, who often seek distance education programs because they are more convenient for students who have jobs, families, and other full-time responsibilities. Check your school's website or ask their financial aid counselors for enrollment requirements to ensure you can receive funding.
Financial Aid Resources
There are many different resources available to help you pay for school. The first place any student should begin their search is with the financial aid office of the school they'd like to attend. A university's financial aid officers can offer students a wealth of information on the different ways to fund their higher education. Financial aid counselors and many librarians generally know the most about scholarships available to students.
You can also do your own research online. For instance, when it comes to government-sponsored loans and grants, the U.S. Department of Education's Federal Student Aid website is the best place to find information on federal aid. Another great source is finaid.org, a nonprofit website that helps students navigate the application process.
Other resources that websites that offer a wealth of information on financial aid, scholarships, and student loan opportunities include the following:
Frequently Asked Questions about Financial Aid
Will I Get Tax Benefits if I Pay for School?
---
An educated population makes for a richer nation — not only financially, but also culturally. One of the ways the U.S. government eases the financial burden of higher education for students is by providing tax breaks to those paying for school. There are three standard tax incentives for higher education.
Lifetime Learning Credit: This incentive is for anyone who pays tuition and related education expenses for themself or an eligible dependent. Students can receive up to $2,000 in tax credit and can apply an unlimited number of times. However, claiming this credit prevents you from qualifying for the American Opportunity Credit.
American Opportunity Credit: If you paid education expenses such as tuition or course materials and pursued a degree at least half-time, you can claim the American Opportunity Credit. Eligible students can receive up to $2,500 in tax credit, part of which can be refunded to them if they owe less than $2,500 in taxes. This credit can only be claimed four times per eligible student.
Deducting Loan Interest: It is possible to deduct the interest you pay on a student loan in some cases. This includes if you paid interest on a qualified student loan in 2008, if your filing status is single, or if your gross income is less than $70,000 and you weren't claimed as a dependent.
Other tax breaks include special tax credits for students and parents, tax-free college savings accounts, and loan interest deductions. Make sure to check with a financial aid officer to see if you qualify for any of these breaks. You can also learn more about higher education tax breaks via the Federal Student Aid website.
Are There Ways to Qualify for Financial Aid Without the FAFSA?
---
Filling out the FAFSA may not be necessary for all types of aid, especially those not based on need or family income. When it comes to scholarships that many institutions award students, universities may award funding without considering a student's FAFSA.
Filling out the FAFSA may also be unnecessary for those who plan to obtain private loans to cover the costs of their education. For these types of financial aid, students or their parents must fill out a separate set of paperwork specified by the lender.
Although a FAFSA may not be an absolute requirement for every student, it is strongly advisable to fill it out so as not to limit your financial aid opportunities. Doing so can only benefit you in the long run, since many students may find they are eligible for aid they didn't realize they would qualify for.
Can I Receive Financial Aid as an Online Out-of-State Student?
---
Yes, out-of-state students can receive financial aid — though their options may be limited. In most cases, you will have to rely on federal assistance as an out-of-state student. Additionally, many online programs offer out-of-state students in-state tuition rates through reciprocity agreements. The following agreements allow students from specific regions who are pursuing approved programs to attend schools outside their state at discounted rates.
Apply for scholarships. Out-of-state students can apply for a range of need- and merit-based scholarships and grants awarded by institutions as well as various professional organizations.
Check with your employer. More than half of employers offer tuition assistance for employees to go back to school, and out-of-state students typically qualify for these programs.
Related Articles
Financial Aid Letters: Why they're so confusing, and how to read them
Financial aid can be notoriously confusing for students trying to make informed college decisions. We talked with experts about why that is and how you can demystify the process.
Financial Planning
These guides tell you everything you need to know about financial aid, budgeting, working while you study and more to help you manage your financial health during your education.