Guide to Starting Your Online Education
Innovations in education technology, the growth of online universities, and a change in student needs are all driving the shift to distance learning. We've seen a steady increase in online programs over the last decade as schools and universities adapt to meet the increased demand for flexible education. Today, there are more options for digital learning than ever before.
The growth in online education has spread to brick-and-mortar campuses as well. More and more traditional colleges are making existing courses available online or starting entire online degree programs of their own.
From what equipment you will need to the types of classes available, this guide will cover all of the basics of distance education to help prepare you for your first online course.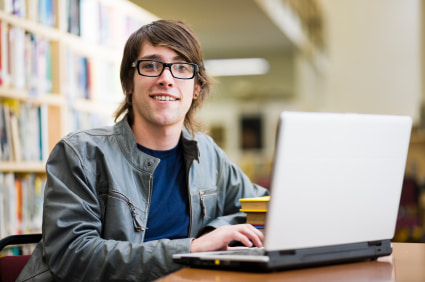 Getting Started: Equipping Yourself For Success
All online learning programs differ in how they work and the type of equipment they require. Some courses are done through learning management systems, such as Canvas or Blackboard, where students review lecture material and complete assignments. Others are done using live video lectures where students meet as a virtual class.
These are some of the most basic equipment pieces you may need to begin an online learning program:
Access to an up-to-date computer (preferably made within the last three years) – it's best to have a laptop or desktop, as most tablets won't be adequate for online programs
Webcam/microphone – Most newer laptops come equipped with both
High-speed internet
Headphones – These are optional but make it easier to study and attend lectures if you can't find a quiet space
Built-in or external speakers
Laptops that fulfill these requirements can be purchased for as little as $250. Your school may have other equipment requirements, including memory and processor requirements for laptops. Check your school's website for specific technology recommendations.
If you don't have access to this type of technology, there are several alternative options. Public libraries usually provide access to computers and high-speed internet, although this method may not be sustainable long-term.
There are many organizations that offer free or low-cost laptops, desktops, and discounted internet access for low-income families. Here are a few resources for students who demonstrate financial need:
Some schools offer free or discounted laptops or lease equipment for students as well. Check your institution's financial aid hub or a financial aid advisor for more information.
If you have a computer with wireless capability but no internet connection in your home, there are still many ways of getting online. For example, there are free and low-fee Internet networks offered through local businesses, such as coffee shops and bookstores, that would be great for accessing accredited online learning programs. Your public library also likely offers free wifi. There may be low-cost internet opportunities in your area as well. Check with your local internet providers to see if there are discounts for low-income families or students.
The Online Learning Structure
The increasing number of online degree programs means that it's becoming easier to choose one that fits your specific needs. If you're worried that distance education might be too isolating, many online programs offer synchronous courses consisting of streaming video lectures and live chat discussions. If you like to make your own schedule, many programs are completely asynchronous – that is, you can do your coursework any time you like.
Most online degree programs will use both types of courses. Some courses will have recorded audio or video lectures followed by exercises or quizzes. Others will provide text online and then require the student to complete essays and send them to the instructor.
Many classes will have a discussion component. In asynchronous classes, this discussion will consist of a message board, with students posting their thoughts and responding to others over several days. In synchronous classes, discussions will take place using a designated chat room, video chat, or instant messaging.
Types of Online Classes
Not all online courses have the same delivery method or time commitment. Depending on your course type, you can expect a more or less flexible online class experience. The major types of online classes include the following:
Synchronous Classes: These courses are the most similar to traditional, on-campus classes. Students are required to be "in class" at particular times to watch live lectures, interact with instructors and peers, and participate in discussions or training. For their online Master of Engineering degree, the University of Alabama at Birmingham hosts one mandatory live class session per week. Some schools leave the option to hold synchronous online classes up to professors.
Asynchronous Classes: Here you'll still be expected to follow a traditional course schedule, but you'll have a window of time to complete assignments and watch lectures, rather than a set time you need to be in class. Students are not required to virtually meet together at a set time. Many established fully-online programs use this style as it allows students to have a more flexible schedule, one of the main attractions of distance learning.
Self-Paced: Some asynchronous classes allow students to go at their own pace, and don't have strict due dates or deadlines. While students may have to complete a course in a set amount of time, they can finish assignments and coursework when it is convenient. Asynchronous, self-paced courses work well for competency-based programs, where students can advance straight to the final test of a course if they demonstrate a level of knowledge in a subject. Most of Western Governors University's programs are competency-based, where students can complete modules based on their knowledge and skill level.
Hybrid or Blended: Hybrid classes, also known as blended learning, are often used in programs that require significant hands-on skills, such as nursing or social work degrees. Although each school's hybrid courses may look different, they all incorporate both face-to-face and online learning. Students often learn didactic information online and attend limited classes in person. These may take the form of regular courses, or on-site practicums to master hands-on skills. Some programs, such as Georgetown University's Master's in Sports Industry Management, allow students to choose to complete their program on campus, online, or create their own hybrid model.
Types of Distance Learning
There are several forms of distance learning, and many institutions use a combination of methods to teach their students. However, there are four common distance learning techniques: open schedule, blended learning, computer-based learning, and fixed time e-learning.
Fixed Time E-Learning: The most common form of distance learning is a program that sets a predetermined schedule that can be kept from any location. This could mean that students can work from home, school, or the office, as long as they log on to the online learning site at a designated time. These programs often include a live online forum.
Open Schedule: An open schedule can be taken anywhere and gives students the most freedom possible. In this plan, students are given a set of deadlines that they must meet within a certain amount of time, but they can work any time and any place to meet the course requirements. This program is ideal for independent workers and people who don't struggle with procrastination.
Blended Learning: The second most common strategy used in distance learning is one that offers an open schedule but requires students to communicate in an established location. This could mean that students can complete assignments on their own time, but they're required to meet in a classroom or computer chat room to touch base.
Selecting an Online School: Things to Keep in Mind
Choosing the right online college and degree can be extremely difficult. With hundreds of institutions and programs currently operating online, it's easy to get bogged down by the seemingly endless amount of research you must conduct to make an informed decision. This may be one of the most important decisions that you make in your lifetime, but there is information available to help guide your way.
Program Offerings
The number of degrees and subjects that an online school offers can vary greatly. Some schools may offer only one fully-online degree, while other schools will offer one hundred or more different degree options to online students. Whether or not a school offers your desired degree will likely be the most important attribute of a school to you, so it's worth looking into program offerings early on in your decision-making process. If you're not completely certain what you want to study and would like time to take classes in multiple program areas, make sure you find a school that offers multiple degrees that interest you. This will prevent you from the lengthy and frustrating process of having to transfer schools.
One thing to consider when evaluating programs is whether or not there is an in-person component, and where that component needs to be completed. For many professions, such as teaching or social work, a hands-on practicum may be required for licensure. Graduates with some kind of professional experience or credentials, such as an internship or certification, will have an advantage when seeking employment post-graduation.
Accreditation
Accreditation is an important thing to consider when making the decision about which school to apply to. Accreditation is a mark of excellence that tells students, employers, and other schools that you have received a quality education. Attending an accredited program ensures the time and money that you spend on your education is worth it, so you should confirm that whichever school you decide to attend has been accredited by a well-respected agency. Accrediting agencies take the time to ensure that the training and knowledge you receive is up-to-date, enriching, and respected by employers. Many different accrediting bodies are well known for upholding high standards in education. These accrediting agencies are recognized by the U.S. Department of Higher Education and the Council for Higher Education Accreditation.
Take some time to review these articles about accreditation to fully understand which accrediting agency's approval is important for your degree and career. Be sure to note the difference between regional and national institutional accreditation. If the subject you want to study has an associated programmatic accrediting agency, you should consider whether it's important to you if the program you go to has been recognized by this agency.
Transferable Credits
Do you have credits from prior college experience? Do you expect that you may need to transfer to another college before finishing your degree? If so, it's important to talk to counselors at your college about the possibility of transferring your credits. Transfer credits can help save time and money on your degree, but colleges review credit transfers on a case-by-case basis and are not required to accept credits from other institutions. Often, colleges will only accept credits from schools or programs that have been accredited by the same type of accrediting agency. This means that if you plan to transfer from a school with national accreditation to a school with regional accreditation, you may run into roadblocks. Most colleges and universities are regionally accredited, while national accreditation is largely for career and technical programs.
Reputation
The reputation of the school that you attend may affect how your degree is perceived by employers and other institutions. This is especially true for online programs, which can vary in quality. Attending a program that is widely respected and well-liked increases the likelihood that you will be satisfied with your education and feel prepared to enter the field. Getting your degree will take a lot of time, effort, and money; therefore, it's important to understand the reputation of the school that will be giving you your degree when you graduate.
Tuition and Financial Aid
The cost of college is highly variable, and a higher cost does not necessarily mean better education. No matter how you're planning to finance your college education, it's likely you do not have unlimited resources to spend. Look closely at the cost of each school and consider how it compares to other colleges. We've listed the annual tuition for each school, as reported by the National Center for Education Statistics, in our school lists.
If you are planning to take advantage of federal financial aid, whether in the form of grants, work-study programs, or loans, it's important to make sure the school you attend is eligible to participate in federal financial aid programs. Schools often offer a variety of financial aid and support services, including institutional scholarships and free laptops, for online students as well. Check school websites for their tuition and financial aid hub to compare what financial options are available. For more information about financial aid and other ways to fund your education, check out our Financial Aid section.
Student Services
Traditional campus-based colleges are known for a vast array of student services, including tutoring, libraries, and career services. Some online colleges offer these services as well. These services can often enhance the college experience and the success a student sees after graduation. Decide which services you would likely take advantage of, and find schools that provide them.
Career services: Depending on the structure of a program, online students may have fewer opportunities to network and make professional connections that will benefit them post-graduation. Many online programs provide comprehensive career services for students and alumni for this reason. Career centers often provide help with resume writing, interview preparation, career planning resources, and networking opportunities for alumni. They occasionally partner with employers as well to help students enter their chosen field.
Online tutoring and help centers: Students struggling academically may need to make use of online one-on-one tutoring sessions and math or writing centers to keep up with their course load. These are a critical resource for students and most schools make this type of support available.
Student success center: Online students who are new to distance learning may struggle with things like time management, creating and sticking to a schedule, or maintaining a healthy work-life balance. Student success centers often have resources ranging from online articles or webinars to counselors who will create individualized plans to help students who are struggling.
Mentor/coach: Some schools assign mentors, coaches, or academic advisors to students who help them stay on track. This can help students develop a pace that works for their lifestyle and around their other commitments while ensuring they finish their program in a certain period of time.
Wellness services: If online schools offer wellness services, it usually includes mental health resources. While some programs simply offer a hub for articles and blog posts on self care, some have robust programs that include crisis support, clinical counseling, and even legal consultations.
Related Articles
2023 Best Online Education Degrees
Explore our 2023 list of the best online education degrees at the bachelor's level. All online schools listed are accredited.
Is an Online Degree Respected?
If you are wondering whether an online degree is respected or considered the same as traditional degrees, read our expert advice from an HR representative.