How to Graduate College Early
The traditional view of college education is that it lasts four years, despite evidence that most students take longer to finish. But is it possible to complete your studies early? And how can you do this with your degree?
It is possible to graduate from college in under four years, but you need to prepare in advance of enrollment and be disciplined with your time. It may be helpful to weigh the potential pros and cons of graduating early before deciding to pursue this path. But if you think early graduation is right for you, explore the methods outlined below.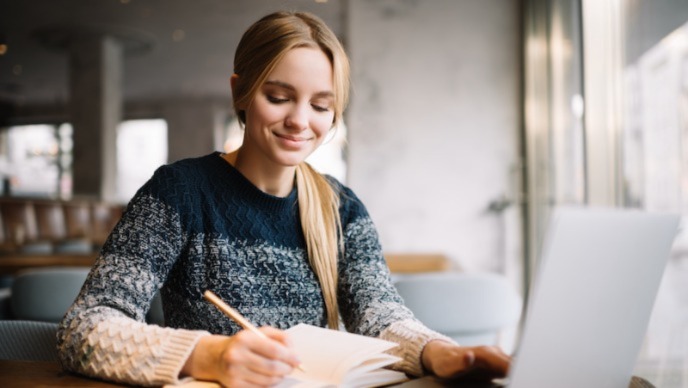 Learn more about how we make money. ">ADVERTISEMENT
Online Programs You May Be Interested In

Annual Tuition: $19,398 - $29,428
305 Programs (view all)

Southern New Hampshire University Online
Annual Tuition: $9,600
156 Programs (view all)

Annual Tuition: $16,639
21 Programs (view all)
---
Why Graduate Early?
There are several compelling reasons to finish college early — but also some potential drawbacks. Consider the following factors as you chart your course.
Potential Benefits
Graduating early allows you to join the job market more quickly. Even finishing one quarter early could set you on your preferred career path 10 weeks sooner. Once you secure a job, you can get on schedule to repay any student loan debt you've accrued.
Hiring managers may appreciate your hard work. Interviewers want to hear about results you've achieved, and highlighting your discipline and focus can be a compelling narrative.
Potential Drawbacks
Finishing college early might not save you money or lower your student debt. To be clear, this depends on the financial policies of your school, so it's crucial to understand how the college charges tuition and fees before you matriculate — see the Financial Considerations section below.
You won't necessarily benefit from early completion if you plan to attend graduate school immediately. Many graduate programs feature only one start date, usually in the fall term, so you'd only be able to take introductory classes at one point in the academic year. This might defeat the purpose of graduating early — for example, if you finish your bachelor's degree in December, you may need to wait until the following August or September to start graduate school.
Spending so much energy on coursework may detract from the traditional college experience. Homework for six classes takes longer to do than homework for four, leaving less time for extracurricular activities and social engagements. But this is typically less of a concern for older students, online learners, and commuters, and it may be possible to find time for activities that are important to you. For example, Saint Leo University graduate Eva Keller was "president of the club for my major, and . . . on the executive board for my sorority and the Panhellenic Council."
Financial Considerations
Graduating early may require you to take more credit hours per term than the usual 12-18. Some colleges charge you full tuition if your credit hours fall within that typical range, and others charge per credit hour regardless of how many you take each term.
Another less common situation is schools that charge up to a certain credit-hour threshold but allow students to take one or two classes beyond this at no extra cost. This is ideal for early graduation because it would ultimately save you on tuition costs. However, many schools now apply excess hour surcharges to students who take courseloads beyond the threshold.
Ultimately, you might save money by completing your degree sooner, but it's not guaranteed.
---
You don't necessarily have a financial incentive to graduate early if your college charges for every credit hour or charges an extra fee for taking a heavier courseload.
---
Keys to Graduating Early
You can pursue several strategies to help you earn a bachelor's in under four years. We asked graduates how they managed it, and their responses are woven into the tips below.
Earn Credit Before Starting College
You may be able to hit the ground running by transferring credits into your degree program. These credits can take a variety of forms depending on your age, educational experience, and work history. The following examples are ways to shave a number of credits off your degree in advance.
Most colleges offer credit if you score well on Advanced Placement (AP) exams in a variety of subjects. This option is typically only open to high school-age students who've taken the AP classes corresponding to the tests they want to take. A College-Level Examination Program (CLEP) test is another possible option for skipping some lower level college courses.
University of California - Berkeley alumnus Summer Swee-Singh was able to test out of three courses, including one for her music minor: "The ones that really helped me skip college requirements were getting a 4 on AP English Literature, a 4 on AP Biology, and a 5 on AP Music Theory."
Your state might also let you take courses at a public college as a high school student. This usually requires a GPA of 2.5 or higher but depends on the state. These programs can be a good way to complete some general education requirements early.
Students usually attend nearby community colleges, but some states allow for classes at four-year schools. In her final two years of high school, Optimal editor Emily Sherman was able to take courses at Lamar University in Texas that allowed her to enroll at St. Edward's University with 66 credit hours completed.
Many colleges offer waivers for foreign-language course requirements if you took at least two years of a foreign language in high school. You can also test out of these requirements by demonstrating proficiency in another language. University of California - Irvine alumnus Marta Bistram did so, crediting her academic advisor with helping her "set up a foreign language fluency test . . . so I could apply my native Polish and skip two years of language courses."
If you're not enrolling straight out of high school, you might qualify for credits based on life experience or training. Policies vary by college but may include credit for passing a proficiency exam in some subjects, military training, or a portfolio of work relevant to your major, which might let you skip prerequisite courses.
Take More than Four Courses per Term
For most students, there's simply no way to graduate early without loading their course schedule more than the general full-time amount. The expectation is typically four courses per term, at three credits each. However, most colleges allow you to take more. Keller was able to graduate a semester early because "from the beginning, I took the full course load of 18 credit hours, which was six classes."
You may find heavy courseloads easier to bear if at least one or two of your classes are online. Distance learning can reduce commute time if that's a factor, and asynchronous courses let you sign in to watch lectures and work whenever it's convenient.
Take Summer Classes
Attending school year-round can help you earn credits while other college students are on break. This takes discipline, especially because summer terms (and even winter terms in some schools) are compressed, requiring you to attend more frequently. Susy Chandler, associate director of community engagement at Lenoir-Rhyne University, says that summer courses are "tough because they're every day, but you can knock out a full semester or more in 10 weeks ... You can even start the summer before college taking prerequisites."
Pursue Internships that Give Credit
Internships provide the most common opportunity to gain college credit and work experience at the same time. Chandler says, "Double stack whatever you can, like independent study credits for an internship." She worked at a marketing agency for 10 hours a week and emerged with three credit hours and a portfolio of work to fill out her resume.
Keller was also able to make the most of her experience: "I was given the maximum internship credits which was 12 credit hours. So this covered what I needed in internships plus a couple elective credits I now didn't need to take later."
Work Closely With Your Academic Advisor
If you hope to graduate early, your advisor is potentially crucial to helping you achieve that goal. These professionals know the credit requirements for your major and any minors you declare, and they may help chart a path to your diploma that takes less than four years.
Bistram says, "They can help you form a realistic plan, and can often save you a lot of time with their expertise. My [advisor] showed me the most effective ways to apply my AP credits [and] saved me an additional general education course by suggesting a class that counted for two combined requirements."
If you hope to graduate early, your advisor is potentially crucial to helping you achieve that goal.
Impediments to Finishing Early
Even with proactive planning and discipline, you might not reach your early-completion goal. There are many possible reasons for this; we've listed a few examples here.
You may not have laid the necessary groundwork before enrolling.
Some young students aren't aware of their opportunities to take AP or community college classes. Others — especially
students from underrepresented backgrounds
— are systemically blocked from advanced coursework by
educational inequities
that reach all the way back to their elementary school days. Starting college without transferable credits will make it difficult for you to finish early.
Early graduation often requires a comfortable financial position or willingness to take on debt.
College is more expensive
than ever, and taking a heavy course load could possibly preclude getting even a part-time job.
Financial aid
may help mitigate the financial burden, but many students aren't willing or able to forgo earning an income while they study. And it's not just adult learners; even one-third of recent high school graduates
are employed or looking for work
while in college.
Life can get in the way. You may have existing obligations that prevent you from taking on extra classes, such as responsibilities to your family, friends, or job. Even if you start college relatively free of obligations, a lot can change in three or three-and-a-half years.
You might change your mind. A friend could convince you of the joys of studying abroad, or you might discover a new club and decide to take a leadership position. College is about exploring new ideas, and you may consign your original goal to the "old ideas" bin.
The Bottom Line
You can earn a bachelor's degree in under four years if you earn transfer credits in advance, prepare a plan with your advisor, and take extra courses if necessary. It's important to weigh the pros and cons because the degree fast track has financial implications and will affect your personal life.
Related Articles
Best schools for graduating with no debt
(that you can actually get into)
These 15 schools result in the lowest debt for students and have at least a 50% acceptance rate
How to Get an Internship
Explore how you can get an internship, from researching companies to applications, job interviews, and more.