What College Should I Go To?
Choosing the right college can be a difficult decision to make. It takes time, energy and a lot of research. Not only that, but the college application process can be a lot to manage in and of itself. With an endless sea of options, it's helpful to know how to pick a university that fits your collegiate objectives, career goals, and social preferences.
In this article, we'll walk you through the toughest question of your academic life so far: "What college should I go to?"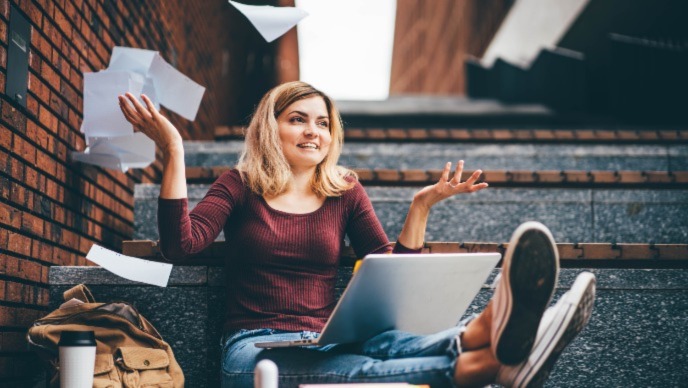 What To Look For in a College?
There's a lot to consider when looking for your ideal college. To answer this tough question, we sought out the advice of a college admissions expert.
Rachel Coleman is a Stanford University graduate and member of the Higher Education Consultants Association (HECA). She has over seven years of professional experience helping students navigate the college application process.
We asked her what she believes is the most important aspect of a college that students should consider before applying. Coleman believes academic fit is the most relevant:
"Specifically, students should ask themselves the questions: Does this school have the major I'm interested in? Does it have the resources and connections to support me in my future career?"
She goes on to offer an example of a student who wants to pursue a Bachelor of Fine Arts in acting. "There are only a handful of schools with this academic program," she continues, "and even fewer with strong industry connections in the locations where acting students tend to find work, [such as] New York and LA."
As for her own collegiate journey, Coleman chose Stanford because they offer strong academic programs in a variety of fields. As with most high school graduates, she wasn't exactly sure what she wanted to pursue. Stanford, like many other schools, allows students to put off declaring their major until their sophomore year. This is an underappreciated benefit that some students may overlook. Choosing your major as part of the application process can be an unfair ask of a 17-year-old. Don't be afraid to give yourself time to find your passion before committing to a specific degree program that you're unsure of.
While low tuition may seem like an obvious consideration, many students are unaware what they'll actually end up paying. The sticker price is often different based on your individual circumstances, including merit-based aid or other need-based aid you might receive. For this reason, Coleman recommends using a net price calculator.
---
This net price calculator from
College Board
— the organization that runs the SAT — lets you narrow down your list of colleges based on their prices, your financial aid, and family contributions.
---
"The multitude of colleges across the US span a broad spectrum of costs," she says, "and students should be strategic about applying to schools where they can graduate without debt." This is, as she puts it, "a strong predictor of future success."
How To Choose a College
First and foremost, you should consider what your biggest priorities are when it comes to choosing a college. Do you want to stay close to home? Do you want to find the best online degree available? Do you want a robust campus life or athletic program? Or maybe you want the least expensive way to earn your degree? Once you've decided on your priorities, you can begin to think more in-depth about the factors that make up your ideal school.
Degree Program
Most students base their college choice on their degree program. Some schools are known for having the best engineering programs while others may specialize in nursing degrees. If you're determined to find the best program available, read more about how to pick a college major below.
Location
Another important consideration when choosing a college is its location. Although some online programs offer 100% distance learning, in some cases, you may be required to attend classes in person. For this reason, you should choose a school that's near your home that will make for an easy commute and help you avoid any additional overnight costs. If your program is fully online, you'll likely miss out on social events that your school hosts. If networking is an important factor for your education experience, check whether your school offers online networking events.
Speaking of location, you may also consider whether you prefer a college located in the middle of a bustling downtown city or in a more rural area. The former may offer more in terms of a social life outside of your studies and more activities to engage in that aren't school sanctioned. If you choose a rural college, however, you may experience smaller class sizes which might make it easier to forge connections with your classmates.
There are also numerous options to pursue your degree remotely through an online degree program. This gives you the freedom to live anywhere — and tuition will likely cost less — but it may not offer many opportunities to connect with fellow students.
Online Schools
Distance education has grown in popularity over the past decade. As of the 2015-2016 school year, 43% of college students took at least one online course. Today, the vast majority of colleges around the country offer fully online degree programs or at least a range of online courses.
When it comes to deciding on a college, many consider online colleges as the best option that best meets their needs. Online schools have a lot of the same degree programs but often come at a slightly discounted price when compared to on-campus learning. The main drawback, of course, is that you won't get the same experience as a traditional university, from its on-campus social scene to its athletic programs.
Additionally, online programs hold the same respect from prospective employers as four-year universities, according to an HR leader in the field. Most large public universities that offer the traditional college experience now have fully-fledged online degree programs as alternative ways to earn the same degree. What's more is that your diploma likely won't mention that you took your programming courses online. This further reduces the stigma of online learning.
---
If you're unsure of your chosen school's capabilities when it comes to distance learning, check their online student representation. If half of their students are taking advantage of their online coursework, then you can feel confident that their program meets the threshold for a high standard of online education.
---
Compare Colleges
For our lists at OnlineU, we utilize Salary Score to rank individual schools. This is based on the US Department of Education's data regarding the median salary of alumni who graduated from a certain degree program. We then compare those salaries to other school's alumni with the same degree and assign them a score from 0 to 100. This gives students the ability to apply to schools with the best financial outcomes for graduates.
How Many Colleges Should You Apply To?
There is no exact number that should be met when it comes to applying to colleges. However, students generally apply to several schools, usually between four and eight. This is an ideal range because it doesn't burden you with excessive applications, but it also leaves plenty of room for a positive response. Of course, this range makes more sense once you've narrowed down your list of the best universities, whether it's colleges with the highest starting salaries or the largest online colleges.
Another thing to keep in mind is that there isn't a national standard for college acceptance. In fact, some colleges are moving away from their focus on SAT and ACT scores, as they deem them an optional part of the application process. This can make the process a bit ambiguous when it comes to getting into your dream school. So, if you have the time and resources to apply to a higher number of colleges, go for it.
How Much Does It Cost to Apply for College?
According to Research.com, college application fees are usually around $50. Their data found that more elite institutions — Ivy League schools, for example — charge higher fees for applications. Some of the highest submission costs come from Stanford, Duke, Yale, and Cornell University, which range from $80 to $90.
Some colleges may offer application fee waivers due to extenuating circumstances, like if you come from a low-income family or require financial assistance. However, for many of the most well-known universities in the country, who receive tens of thousands of applications each year, the application fees remain a prominent source of income. Stanford University, for example, received 44,703 applications for the class of 2021. With a $90 nonrefundable application fee, that resulted in over four million dollars in revenue.
---
Luckily, many liberal arts and online schools are beginning to move away from costly applications, which opens the door for many first-generation students and those who lack financial resources.
---
Underrepresented Groups
Applying to college isn't always a level playing field. Some underrepresented students may have different experiences based on things like their legal status, ethnicity, or income. For example, Black and Hispanic students are more likely to attend schools that have lower faculty salaries. Furthermore, the same two demographics are less likely to complete their degrees when compared to their white counterparts.
For LatinX students, only 45.8% earn a degree within a six year timespace. Compare that to white students — with 63% earning their degree within the same time period. Hispanic students may encounter further complications when it comes to attending school as undocumented students. This includes obtaining financial aid to attend college. While federal grants may not be an option, students can still seek individual scholarships or aid from nonprofit organizations.
Black students face similar disparities with respect to completing their degrees. Of those attending four-year universities, only 45.9% complete their programs in six years. Even more revealing is that 72% of Black students take on the additional burden of student debt, compared to just 56% of white students.
When it comes to LGBTQ+ students, they face unique challenges as well. According to a survey in 2020, 18.9% saw an increased hostile learning environment due to sexual harrassemnt.
Unfortunately, many schools don't offer resources to support these underrepresented groups. Therefore, it's important to verify that a school has an adequate support system for you as an individual. If you are a member of any of the above groups, click the individual links above for a deeper look into how you can navigate the college experience, including detailed advice from experts.
Veteran Students and Military Friendly Colleges
As we outlined above, there are many unique challenges students face based on their background and demographics. Military veterans may also encounter struggles as they navigate the college experience after they return home to civilian life. For this reason, many schools cater to veterans through a variety of special programs and accommodations. Some schools even offer group support systems for affected veterans. These meetings could also be beneficial for online students, as they can chat via video conferences. This process allows students to meet and connect with others who have similar experiences.
For active-duty students, military-friendly online schools are particularly advantageous thanks to their flexible learning schedules, allowing students to study on their own time. Many of these schools also offer financial support and counseling services geared toward military members.
How To Pick a College Major
Overall, students who find success after graduation are often those who follow their passions. Studying is hard work, but it's made easier when you're pursuing a subject you truly care about. If you don't have your passions pinned down yet, don't worry. Try to explore different subjects during your first year of school to see what strikes you the most.
It may be helpful to consider the following in your college search:
Your Desired Career
First, consider your ultimate career goals and decide what major will best support your learning objectives, career aspirations, and interests.
If your dream school requires that you choose a major, here's some helpful advice on how to pick a college major: First, consider your ultimate career goals and decide what major will best support your learning objectives, career aspirations, and interests. For example, if you want to become a writer, there are dozens of excellent creative writing programs throughout the country covering a wide swath of niches. Maybe you also have a passion for computers, but have never thought about your two interests together as a viable career path. In this case you may want to pursue a specific program in software engineering that will prepare you for a career designing, building and maintaining complex computer programs.
Education Requirements
It's important to consider the educational path required to reach your end career goal. If your chosen career requires higher levels of education, you should plan accordingly. Ask yourself, what are my financial resources? What is my expected timeline before I can begin my desired career? For some career fields, such as psychology, you are required to obtain a master's degree before you can get a license to practice in a clinical setting. This means an extra two to four years in addition to a bachelor's degree.
Cost
Although nobody wants to think about student debt, it's important to make an educational plan that's going to set you up for future success. Check out our financial aid resource and scholarship guide to help you achieve the financial assistance you deserve.
There's also other ways to save. For example, you could try to graduate college early through an accelerated program or choose a cheaper online degree instead of a traditional, in-person one. You may even want to start out by getting your associate degree from a less expensive community college. These are just a few ideas to help you save money over the course of your college experience.
Flexibility
Picking a college major is one of the most difficult decisions a student can make. As we discussed above with Rachel Coleman, freshly graduated high school students don't always know what they want to pursue for the rest of their adult careers. In fact, this is a hard ask for the majority of young people. If you're unsure of what concentration you want to study, look for schools that don't require you to pick a major during the application process.
Helpful Resources for Your College Search
If you're starting your career search from scratch, there are several helpful tools that will give you a broad look at your options:
The Bureau of Labor and Statistics has plenty of helpful data points to help you pin down a career path, including median annual salaries, job growth outlooks, and what to expect from a work environment.
There's also Career Explorer, which features 800 career paths and their job satisfaction ratings.
We utilize both of these sites in our in-depth analysis of the best online degrees in a wide variety of fields. Check out our full list of online college degrees to find the best higher education pathway for you.
What Happens Next?
Once you've decided on the schools you'll be applying to, the next step involves submitting a college application. This requires sending the school various documents such as test scores, high school grades, SAT and ACT scores, letters of recommendation, and personal essays. Many schools have different application processes including separate pricing, deadlines, essay prompts, and test requirements.
Related Articles
The 100 Most Popular Accredited Online Schools & Colleges
These popular accredited online schools have established strong brands that resonate with a large number of the prospective students who visit our site.
College Planning
These guides provide all the information you need about planning for college – from your applications through choosing the best program or school for your goals.