2023 Most Affordable Online Colleges for MBA Programs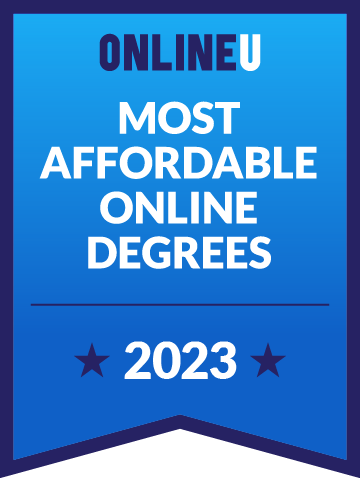 An online Master of Business Administration (MBA) is designed for students looking to further their expertise in various business practices and theories. These online MBA programs typically include core courses that cover accounting, marketing, business ethics, finance, and management. Some popular MBA courses are Strategic Management, Business Analytics, and Organizational Behavior. In addition, many programs offer various concentrations that allow students to hone in on a specific industry they may be interested in, such as Human Resource Management, Health Care Management, Finance, and Marketing. Some programs may require prerequisite courses, training, or a final comprehensive exam to graduate. Graduates of an online MBA program may go on to pursue careers like marketing analysts, business data analysts, and project managers.
View our methodology for details about rankings or learn more about us. You can also check out our overall list of the most affordable online degrees for additional inspiration.
All tuition numbers were manually collected and verified
| Rank | School | Locations | Annual Tuition |
| --- | --- | --- | --- |
| # 1 | North Central College | Naperville (IL) | $2,637 |
| # 2 | Georgia Southwestern State University | Americus (GA) | $3,855 |
| # 3 | Wichita State University | Wichita (KS) | $4,620 |
| # 4 | California Coast University | Santa Ana (CA) | $4,875 |
| # 5 | Fitchburg State University | Fitchburg (MA) | $4,934 |
| # 6 | Northeastern State University | Tahlequah (OK) | $5,095 |
| # 7 | Union College - KY | Barbourville (KY) | $5,100 |
| # 8 | Amberton University | Garland (TX) | $5,130 |
| # 9 | Midwestern State University | Wichita Falls (TX) | $5,196 |
| # 10 | Missouri State University | Springfield (MO) | $5,415 |
Choosing an Online MBA Program
According to the National Center for Education Statistics, an MBA is the most popular of all master's degree programs. Recent statistics available from the 2017-2018 school year show that more than 192,000 people earned MBAs in that year alone, a number that continues to increase. Earning an MBA degree equips graduates with specialized knowledge and skills that may give them a competitive edge in the job market.
Are Online MBAs More Affordable?
In general, yes, an online Master of Business Administration (MBA) is more affordable than a traditional MBA. When looking at a school that offers both online and in-person MBA programs, the cost difference between the two may be significant or minimal, depending on the school. At Purdue University, for example, the tuition fees for an Executive MBA from the Krannert School of Business total $85,000, compared to its online MBA program at $36,860. Southern New Hampshire University's on-campus cost per graduate credit is $700, while its online cost per graduate credit is $627, which amounts to a savings of $2,190 for a 30-credit program. Distance learning removes expenses related to transportation and living on or near campus, and it generally doesn't require a student to quit working while pursuing a degree the way a traditional education sometimes can.
What factors should I consider when choosing an online MBA program?
Many factors go into selecting the best online MBA program for a student's individual needs. For many, tuition is the most important consideration, but during a school search, students may also want to research each school's financial aid options and other student resources. Additionally, students often select a school that offers the particular concentration or elective courses they are interested in pursuing to achieve their professional goals.
Students may have a preference for how their online courses are delivered. Some programs offer hybrid course delivery, with requirements completed online and in person. Other programs are fully online. In addition, students may have a preference about the style of their individual courses. Synchronous classes are live while asynchronous courses allow students to watch lectures and complete coursework on their own schedule.
Finally, accreditation is an important factor to consider. The Association to Advance Collegiate Schools of Business (AACSB) accredits online MBA programs and ensures that the curriculum and faculty meet predetermined standards of excellence in higher education.
Is an Online MBA Taken Seriously?
Students may wonder whether an online MBA is worth pursuing or if they will lose any advantages that graduates of traditional programs might have.
The answer is that yes, for the most part, today's recruiters, human resource directors, and hiring managers understand that an online degree from a reputable, accredited university is the equal of a traditional degree. If an online master's in business program has been regionally accredited, it shows that the curriculum has been evaluated and proven to meet the same accepted standards for academic rigor as on-campus programs. It also demonstrates that courses are taught by competent, experienced instructors, and that students are reaching desired learning outcomes, such as developing specific skills and abilities relevant to the degree. Some hiring managers may even appreciate the stamina and determination that goes into earning a degree online, especially if the student maintained a full-time job in the process.
Common Online MBA Courses and Concentrations
The following are a list of common core courses for an online MBA degree. Many of these can be taken either as a standalone course or as a concentration.
Finance: Sometimes referred to as managerial finance, finance is a required course in most online MBA degree programs. Coursework focuses on the practical application of financial concepts, enabling future managers to make sound financial decisions. Topics covered include financial analysis, capital investment decisions, and the valuation of financial and real assets. The curriculum for an MBA with a concentration in finance might include core and elective courses in financial markets, quantitative modeling, and fintech (the application of technology to financial services).
Financial Accounting: At the master's degree level, students taking this course learn to interpret numbers, evaluate the financial health of an organization, and predict likely outcomes for financial decisions. The program curriculum for a specialization in financial accounting includes courses in managerial accounting, taxation, and auditing. In some cases, the curriculum is designed to prepare students to become Certified Public Accountants (CPAs). According to PayScale, CPAs earn anywhere from $56,000 to $140,000 annually.
International Business: International business provides a broad survey of key concepts such as cultural and political forces, world economics, theoretical frameworks, and government involvement in business. Students pursuing an MBA in international business will study management, economics, finance, and marketing from the perspective of global organizations. Some programs may offer elective courses in business law, supply chain management, cultural studies, or global operations, and may require a capstone project.
Management Information Systems: A class in management information systems covers IT hardware and software, network administration, database administration, and telecommunications. People interested in assuming leadership roles in the field of technology may consider a concentration in this topic. The curriculum combines many elements of a general MBA program with specialized IT courses. The median annual salary for IT managers in 2019 was $146,360, according to the Bureau of Labor Statistics.
Marketing Management: The fundamentals of marketing are intertwined with many other facets of an organization's operations, and this course offers students a broad overview of marketing management principles. Topics include strategic planning, buyer behavior, target markets, positioning, and pricing. Students pursuing an MBA in marketing may be required to take 12 or more credit hours of courses such as consumer behavior and market data analysis. According to the Bureau of Labor Statics, the current median annual salary for a marketing manager is about $136,000.
Operations Management: Operations management (OM) involves the systems and processes used to produce and deliver goods and services. Online OM courses focus on applying concepts like data analytics, lean management, and quality management to improving an organization's operations. Students pursuing an OM concentration will also study topics such as supply chain management, forecasting, process design, and strategy. According to the Bureau of Labor Statistics, operations managers typically earn six-figure incomes with median annual salaries near $123,000.
Organizational Behavior: Organizational behavior focuses on people—how they interact with each other and their work environments. In general, a class on organizational behavior will look at the impact individuals, groups, and organizational structures have on human behavior in the workplace. Among the many topics covered are motivation, conflict, leadership, and change management.
Is it too late for me to go back and earn an MBA?
The right time to return to college is entirely dependent upon a person's goals. Looking at return on investment (ROI), however, can help. ROI compares the amount of money a person is likely to earn by getting a degree to the amount of money spent on obtaining that degree. Younger college students can typically expect a higher ROI after completing a full-time MBA program. Once they return to the workforce, they have more years to leverage a graduate degree into career advancement and increase their earnings.
Professionals who earn their MBA at a later age may consider ROI more heavily, weighing how many more years they plan to be working and factoring that into potential earnings. Nevertheless, although the average starting age for all MBA students is 28, there is evidence to suggest that students in their 30s, 40s, and beyond are choosing to earn MBAs, especially through online programs.
For this reason, prospective students interested in pursuing an MBA while continuing full-time work may consider an Executive MBA program. Enrollment is usually limited to business professionals who've been in the workplace for at least five years. The accelerated coursework in these programs is specifically designed to capitalize on students' first-hand work experience and contribute to their career goals.
There are additional factors to consider beyond ROI. A later-in-life degree may allow someone to pivot their career into something more rewarding and fulfilling. Further, some individuals are motivated to earn a graduate degree for the sake of specialized knowledge, personal interest, and a sense of accomplishment.
Cost of an Online MBA Degree
The cost of an online Master of Business Administration (MBA) degree can vary widely. For the 25 schools on our most affordable online MBAs list, the total cost of tuition for a 2-year program ranges from $7,710 to $13,090. Georgia Southerwestern State University is the most affordable school offering an online MBA program, with an annual tuition of $3,855. When students widen their search beyond the most affordable schools, they'll find online programs that can total as much as $107,000 or more.
To compare program costs, it's also helpful to consider per-credit tuition fees. In general, an MBA requires the completion of 30 semester credits (and more if the student needs to take prerequisite courses). For the most affordable online MBA programs, cost per credit ranges from $257 to $385.
There are various factors that are not reflected in tuition rates that students may need to consider, like:
Costs of books and other supplies
Annual and one-time-only fees charged by many schools, such as for the application, technology, and graduation fees
Childcare, for students who have small children at home
Interest that will need to be paid on a student loan, if that type of financing is needed
Costs associated with on-site meetings, including transportation and accommodations, as some graduate programs require students to be on campus for orientation and/or practicums, workshops, and conferences
However, MBA students may be able to offset the cost of their online degrees in several ways. For instance, some newly admitted students may be able to obtain credits from previous work experience, military service, or other professional training. They may also demonstrate their knowledge of certain subjects on assessment exams, which can reduce the number of prerequisite and required courses needed to graduate. Additionally, some online MBA students may qualify for scholarships, fellowships, grants, and tuition discounts—forms of financial assistance that don't need to be paid back. We've provided additional information about funding an online MBA program below.
Funding an Online MBA Degree
Students returning to graduate school to enroll in online MBA programs typically have the same financial aid options available to them as students of other programs. Financial aid types that do not have to be repaid, such as grants, scholarships, fellowships, and work-study programs, are preferred. If necessary, however, online students enrolled in reputable schools can consider applying for low-interest federal or private loans.
Some MBA students may also be eligible for full or partial tuition reimbursement programs through their employers. These programs may entail meeting certain criteria, such as maintaining minimum GPA requirements or committing to remain with the organization for a specified amount of time after completing the MBA. Some individuals who are currently or were formerly employed by the U.S. armed forces may also qualify for financial aid through scholarships or tuition discounts in honor of their military service.
Among the many scholarships and fellowships available to applicants pursuing online MBA degrees are the Golden Key Graduate Scholar Award and the Mary Elizabeth Lockwood Beneventi MBA Scholarship, which are open to all MBA students. Some private and professional organizations also extend funding to applicants who fit a certain demographic profile. The Forte Foundation, for example, offers MBA scholarships to women, and the Paul and Daisy Soros Fellowships for New Americans provides funding to immigrants and children of immigrants. Many scholarships offer awards in the range of $1,500 to $5,000, and these can be combined with other scholarships or forms of financial aid to offset the total cost of online education.
Is Getting an Online MBA Worth It?
Because pursuing a degree is a significant financial and time investment, students may wonder whether an MBA will be worth it overall.
Looking strictly at earning potential, the answer to this question seems to be a resounding yes. Data from a 2020 survey conducted by the National Association of Colleges and Employers reveals that newly graduated MBA holders earn average annual salaries approximately $20,000 higher than their bachelor's-degree holding counterparts. Multiplied over a lifelong career and factoring in the potential for advancement, the increase in earnings may be alluring.
It's important to consider additional factors in order to make a more balanced and informed decision about pursuing an online MBA. The true value of a graduate degree in business has been up for debate in recent years, with both sides urging prospective students to look at the bigger picture. Critics say there are a few factors that can make an MBA a poor investment: the high cost of earning a degree, the increasing number of MBA degree holders within a limited job market, and the possibility that MBAs will be less beneficial in a post-COVID-19 workplace. While it is true that MBAs can be expensive, there are ways to make them more affordable, such as by looking for schools on our most affordable ranking list or considering options for additional funding. And while there may be downsides to earning an MBA for some, many people find them beneficial for networking and career advancement.
For those who do wish to pursue an MBA degree, there are benefits to doing so online, including:
Specialization Opportunities: Selecting an MBA with a concentration provides students with highly targeted, relevant understanding and expertise in some aspect of business. Because students have so many online MBA programs to choose from, they are more likely to find a program that aligns with their particular interests. Possible concentrations include health care administration, human resource management, marketing, and general business.
Flexible Schedules: Online graduate programs are designed specifically for working adults, which means that enrollees do not have to give up their jobs and lose several years of career traction while they earn a degree. Most programs offer primarily asynchronous courses, and students often have the option to adjust their course loads from one semester to the next to allow for other commitments in their work and personal lives.
Skills Gained: The coursework, as well as the challenges of going to school online while maintaining a job, help build valuable skills in critical thinking, organization, collaboration, and written and verbal communication. Studying business with a group of peers who are currently employed in a variety of industries allows students to apply theoretical knowledge to contemporary, real-world situations. In addition, the completion of an online degree demonstrates a student's level of personal commitment and perseverance to employers.
A graduate degree in business is not the right path for everyone. The decision to pursue an advanced degree depends on many personal factors, from a student's financial situation to their obligations and career goals. Yet for those who aspire to higher-level management positions, earning an MBA, especially online, can be an effective means of obtaining the credentials, knowledge, and skills needed to land advanced jobs in the future. Perhaps this explains why the MBA is still the most popular graduate degree program, according to the National Center for Education Statistics.
Related Articles
2023 Most Affordable Online Colleges & Degrees
The top affordable online colleges of 2023. Find cheap online associate, bachelors, master's, and doctoral degrees.
2023 Best Online MBA Programs
Explore the best online MBA programs based on alumni salary score, and find the online graduate degree that's right for you.