2023 Most Affordable Online Nursing Programs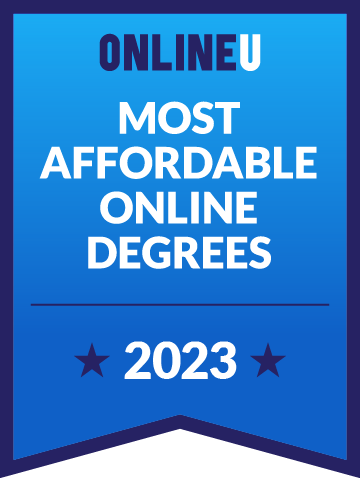 Nurses are the backbone of the healthcare system, and they're needed now more than ever. If you're an RN looking for a management and/or leadership role or you want to transition into graduate school, consider an online bachelor's degree in nursing. A BSN provides the knowledge and skills you'll need to elevate your career. Beyond nursing skills, a bachelor's degree teaches administration, leadership, and research. If you're interested in advancing your career, explore the recommended programs below.
View our methodology for more details about rankings or learn more about us. You can also check out our overall list of the most affordable online degrees for more inspiration.
All tuition numbers were manually collected and verified
| Rank | School | Locations | Annual Tuition |
| --- | --- | --- | --- |
| # 1 | Dalton State College | Dalton (GA) | $3,204 |
| # 2 | Pfeiffer University | Misenheimer (NC) | $3,497 |
| # 3 | University of South Dakota | Vermillion (SD) | $3,548 |
| # 4 | Ohio University - Main Campus | Athens (OH) | $3,645 |
| # 5 | Tallahassee Community College | Tallahassee (FL) | $3,855 |
| # 6 | Great Basin College | Elko (NV) | $4,935 |
| # 7 | University of North Carolina at Pembroke | Pembroke (NC) | $5,074 |
| # 8 | College of Southern Nevada | Las Vegas (NV) | $5,100 |
| # 9 | Georgia Southwestern State University | Americus (GA) | $5,249 |
| # 10 | University of New Mexico | Albuquerque (NM) | $5,827 |
Choosing an Online Bachelor's Degree in Nursing
Becoming an RN Online
To become RNs, students must first complete an accredited, state-approved nursing education program and then pass their state's National Council Licensure Examination, otherwise known as NCLEX-RN. The following are several educational pathways aspiring nurses can take to become eligible for the licensure exam:
RN Diploma
Associate degree in Nursing (ADN) / Associate of Science in Nursing (ASN)
Bachelor of Science in Nursing (BSN)
The RN programs above cover nursing theory and clinical practice that qualify students to sit for the NCLEX-RN exam. While BSN and ADN/ASN degree programs are offered online, students must complete the clinical experience requirement in-person at an approved healthcare facility.
RN diploma programs are the least common educational pathway for aspiring nurses and are offered by some hospitals and nursing schools. These diploma programs are not available online and do not culminate in a college degree. RN diplomas and associate degree programs can take two to three years to complete, while a bachelor's degree requires three to four years of study.
Getting a BSN Degree Online
There are several types of online Bachelor of Science in Nursing (BSN) degrees, and most are degree completion programs intended for students with some college credit. These online nursing programs are flexible to accommodate the schedule of working professionals; the majority of the coursework can be completed online and the only in-person requirements are supervised clinical hours that students carry out at an approved site in their community.
Below are some of the different online BSN programs available, their application requirements, and the approximate time it takes to complete the degree:
RN to BSN: The most common online program is the RN to BSN pathway that requires an active registered nurse license, obtained by passing the NCLEX-RN, and an associate degree in nursing (ADN) to apply. The majority of schools ranked on this page are RN to BSN programs, which students can generally complete in 18-24 months.
LPN to BSN: Licensed practical nurses have completed an accredited, one-year nursing program and passed their National Council Licensure Examination for Practical Nurses (NCLEX-PN). Students can typically complete an LPN to BSN program in 2-3 years.
BSN: Another option is a BSN program for students without an RN or LPN license but with an ADN from an accredited institution. Students can typically complete this BSN program in 2-3 years. Graduates must then pass the NCLEX-RN exam to become a registered nurse if they don't already have that credential.
Why Accreditation is Important
Regardless of which BSN pathway students choose, it is essential to select an accredited school or a program. Accreditation ensures that students can apply for federal financial aid, transfer credit between programs, and are eligible for certification and employment as registered nurses. Some of the national associations that grant accreditation to nursing programs are the Accreditation Commission for Education in Nursing (ACEN) and the Commission on Collegiate Nursing Education (CCNE).
Common Online Nursing Courses
Nursing students will likely take some of the following courses while pursuing their degree, though course names will vary across schools and programs.
Anatomy and Physiology: Nursing students may be required to take a series of online courses on this topic. Learners will be given an introduction to the body and how organs function. Related topics include how the body and associated structures respond to disease.
Community Health Nursing: Community health nursing is related to public health and addresses the specific health needs of diverse populations and groups. This course examines disease prevention and management at the individual, family, and community levels. Other topics include healthcare promotion and comprehensive care planning.
Ethical-Legal Issues in Nursing: This course introduces nursing students to clinical ethics across various healthcare settings. Students learn how to use ethical reasoning and analysis to resolve issues with patients as they arise in clinical practice. The topics covered can include current legislation and differences in politics or religion.
Foundations of Nursing Practice: This topic is covered as a single course or as a series of courses, depending on the school. Coursework emphasizes patient health assessments and clinical concepts. Nursing students learn to promote patient health and safety through communication and proper assessment techniques. Students may also study the role of technology in providing patient care.
Nursing Informatics: Students take this course to learn about the applications of information technology in nursing. Students learn how to manage clinical information as it relates to patient care. Other topics include ethical issues and emerging technologies in the field.
Nursing Research: Nursing research is designed to teach students the fundamentals of evidence-based practice. Students learn about research processes related to nursing knowledge and care. Additionally, students are taught how to identify valid research in the field.
Pharmacology: An online class in pharmacology teaches students how to administer drug therapy to patients. Topics covered include the major drug groups, the mechanisms of drugs in the human body, and drug testing and approval. Additionally, students must demonstrate competency in their knowledge of drug interactions and side effects.
Cost of an Online BSN Degree
The average cost for undergraduate tuition among all higher education institutions was $23,835 for the 2017-2018 academic year. In comparison, the schools ranked on our list of affordable online colleges for nursing have significantly lower tuition rates, ranging from $2,750 - $6,211 per year, which translates to approximately $5,550 - $12,422 for the total cost of a two-year RN to BSN program. However, the time it takes to complete a degree can vary by student and depends on several factors, such as the number of transfer credits you have and whether you are enrolled part- or full-time in the program.
While online programs do not charge for on-campus fees in most cases, they may charge students distance learning or technology fees in addition to tuition rates. However, students can significantly reduce out-of-pocket costs for higher education by applying for financial aid, outside scholarships, and tuition assistance programs outlined below.
Funding an Online Nursing Degree
Most students pay less than a college's sticker price because of financial aid. Regardless of whether students enroll in an accredited online or an on-campus degree program, they apply for aid in the same way.
Students should submit a FAFSA form to see if they qualify for government aid. There are several types of federal student aid available, including grants or loans. Grants do not need to be repaid, so they have the potential to significantly reduce tuition costs. However, students must follow specific requirements in order to maintain eligibility.
Colleges or universities also offer new or currently enrolled students need- or merit-based scholarships. Students should check with their school's financial aid office or website to view a list of available scholarships, application requirements, and deadlines. If you are currently working as an RN, reach out to your healthcare employer to determine if they offer tuition reimbursement programs to employees pursuing their BSN degrees. There are also outside organizations that provide scholarships and financial aid to nursing students:
American Association of Colleges of Nursing (AACN): The AACN offers multiple scholarships to nursing students pursuing degrees at the undergraduate, graduate, and doctoral levels. Some undergraduate scholarship options include the Geraldine "Polly" Bednash Scholarship, the National Black Nurses Association, Inc (NBNA), and the Foundation of the National Student Nurses Association (FNSNA) Undergraduate Scholarship.
Nursing Student Loans (NSL): The Health Services and Resource Administration (HRSA) offers NSL loans to qualifying students. These are long-term, low-interest loans for students from disadvantaged backgrounds who pursue an associate degree in nursing, a BSN, or an MSN.
Nurse Corps Scholarship Program: The HRSA also offers the Nurse Corps program to currently enrolled nursing students. If accepted into the program, the HRSA pays all of the student's tuition, fees, and textbooks and provides a monthly stipend. In exchange, students must work at a facility that has a critical shortage of nurses after graduation.
Salary and Job Outlook for Nurses
Related Articles
2023 Most Affordable Online Colleges & Degrees
The top affordable online colleges of 2023. Find cheap online associate, bachelors, master's, and doctoral degrees.
2023 Most Affordable Online Colleges for DNP Programs
Discover the most affordable colleges for an online Doctor of Nursing Practice (DNP) and learn more about these degree programs.