Everything You Need to Know About Private Student Loans
Private student loans can be a valuable tool when it comes to funding your education or refinancing to pay your loans down faster. However, it's important to understand the difference between private loans and federal student loans — especially in terms of what you may be giving up when you borrow money for college from a private lender.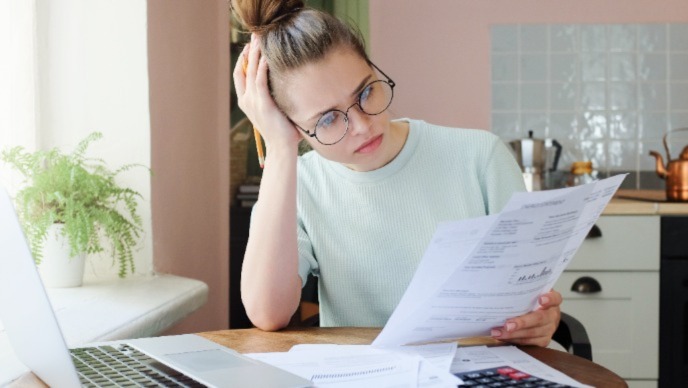 Student loan expert, Michael Lux, is the founder of the educational website, The Student Loan Sherpa. He explains that private student loans are rarely the best option for most borrowers. This is mostly due to the federal loan perks and borrowing protections you get when you take out college loans that are backed by the federal government.
That said, private student loans are often necessary to help students get through college so they can graduate, particularly if federal loan limits have already been exhausted and there's no other way to foot the bill.
The key to making the most of private student loans is only taking them out if you need to. Then, you have to make sure that you only borrow the minimum amount you need to pay for college. In the meantime, you'll want to make sure you wind up with a monthly payment that makes sense with the income you'll have when you graduate. Additionally, you'll want to createa solid plan to pay back the loan amount in full.
If you're wondering how private student loans actually work, who they're best for, and the steps you can take to set yourself up for financial success after college, read on to learn more. You can also check out our Guide to Student Loan Debt.
What Is a Private Student Loan?
Before we dive into who private student loans are best for, it's crucial to have a full understanding of what these loans are and how they work when compared to other borrowing options.
Generally speaking, private student loans are loans offered by private lenders and financial institutions for the purpose of paying for higher education. These loans can come with fixed or variable interest rates, and they often have multiple repayment options to choose from.
As Lux points out, most borrowers are better off using all the federal aid available to them, including federal student loans, before they turn to private student loans. This is mainly due to the fact that federal student loans come with federal protections like deferment and forbearance, as well as access to income-driven repayment plans. Federal student loans are also the type of loans that can be forgiven through various loan forgiveness plans, such as Public Service Loan Forgiveness (PSLF) and Teacher Loan Forgiveness.
Lux points out that — even if the interest rate is slightly higher — programs like income-driven repayment and loan forgiveness are valuable protections. After all, there are students who don't graduate, as well as those who don't find a high-paying job after college.
"Nobody plans on struggling financially after attending college, but it happens all the time," Lux says. "Unless you are certain about your financial picture after college, the safest choice is a federal student loan."
With that in mind, private student loans used wisely can still help college students fill in funding gaps after they exhaust federal student loans and other aid they're eligible for. In fact, private student loans are often essential when it comes to finishing a degree program that has already been started.
There are other differences between private student loans and federal student loans to be aware of, all of which are explained in the chart below:
Federal Student Loans vs. Private Student Loans
| | Federal Student Loans | Private Student Loans |
| --- | --- | --- |
| When are payments due? | Payments can begin after you graduate, leave school, or change your enrollment status to less than half-time | During school or after you graduate |
| What are the interest rates? | Fixed interest rates and fixed monthly payments | Interest rates can be fixed or variable |
| What are the subsidies? | With subsidized federal student loans, the government makes interest payments while you're still in school | Private student loans accrue interest right away, even if you are still attending college |
| What are the borrowing limits? | Strict borrowing limits apply, which vary by degree level, dependent status, and loan type | May let you borrow up to 100% of the school-certified cost of attendance |
| Is a credit check required? | No credit check is requried for most federal student loans for students (except Parent PLUS loans and Grad PLUS loans for graduate students) | A credit check is required, as well as good credit or a cosigner |
| Is there financial assistance? | Students are eligible for deferment and forbearance programs | Students rarely qualify for any deferment or forbearance programs |
| Are there prepayment penalties? | No prepayment penalties | Can vary by lender |
| What are the forgiveness options? | Students can qualify for income-driven plans, PSLF, and other forgiveness plans | Students have no access to federal repayment plans or forgiveness options |
Benefits of Private Student Loans
With federal student loans having so many benefits that don't apply to private loans, you may have the following question: What are the benefits of privately issued student loans?
Potential advantages of loans offered through private student loan lenders (i.e., private financial institutions and banks) can include the following:
Private student loans provide funding when borrowing needs exceed federal loan limits: Federal student loan limits are often insufficient to pay for college when other sources of aid aren't available. For example, first-year undergraduate students who are considered dependents are limited to taking out $5,500 in federal student loans the first year, and no more than $3,500 of this amount can come in the form of subsidized loans.
The best private lenders offer competitive interest rates and loan terms, as well as multiple repayment options: Many private lenders offer student loans with fixed or variable rates that are lower than interest rates on federal student loans. These lower rates can help you save money on interest, pay down student loans debt faster, or both.
Statute of limitations can apply: There's no statute of limitations when it comes to collecting unpaid federal student loans, yet unpaid private student loans have a statute of limitations that can range from 3-10 years depending on the state you live in. The loans will still be "owed" in a technical sense, yet the lender will have no legal recourse to collect from you at that point. Unpaid private student loans also fall off your credit reports after seven years, so they can no longer drag down your credit score.
Disadvantages of Private Student Loans
The biggest downside of private student loans is the fact they don't come with the same perks and protections as federal student loans. Before you borrow for college with a private lender, make sure to consider these disadvantages:
Private loans are ineligible for forgiveness plans and income-driven repayment: Federal student loans are eligible for all kinds of benefits that Lux says work like an insurance plan, yet private loans do not offer these assurances. "Income-driven repayment and loan forgiveness protect you if you lose your job or have some other financial hardship," says Lux. "The extra money you spend each month on interest to have a federal loan is the cost of that insurance policy."
No hope for loan cancellation: Lux also points out that, if student loan debt is forgiven through government action in the future, cancellation will likely only apply to federal student loans.
Private student loans are never subsidized: Where the government pays the interest on certain types of subsidized student loans while the borrower is still in school, this is never the case with private student loans. In fact, all private student loans begin accruing interest right away, even if payments are deferred until after graduation.
You need good credit or a cosigner with good credit to qualify: Almost anyone can get federal student loans regardless of their credit score (or lack thereof). However, only borrowers with good credit or an eligible cosigner can qualify for private student loans.
How to Apply for Private Student Loans
Before you apply for private student loans, you'll want to research lenders and compare them based on their user reviews, rates, fees, and potential borrowing limits. Fortunately, you can conduct the bulk of this research online, and most student loan companies make their loan details easy to find.
Applying for Private Student Loans in 6 Steps
Compare student loan companies based on their advertised rates and fees.
Before you apply for a private student loan, you'll want to compare different loan companies based on the rates and terms they advertise. Make sure to compare them based on their fixed and variable rates, their loan fees, and the various repayment options they offer.
"Check your rate" without a hard inquiry.
Many student loan companies let you "check your rate" without a hard inquiry on your credit report. This step can help you compare loan offers from multiple companies and gauge your approval odds with various providers at the same time.
Choose a lender and prepare to apply.
Once you find a lender with rates and terms you're comfortable with, you can take steps to apply online. You'll need to share personal information and contact details, as well as information on the school you plan to attend (or are currently attending).
Send in required documentation requested by the lender.
Be prepared to send in or upload further documentation after you apply for student loans online. For example, your lender may ask you to send in school transcripts, personal references, pay stubs, or your tax return.
Wait for loan approval.
Once you send in any information your lender requires, you will find out whether you have received final loan approval.
Confirm your loan proceeds have been sent to your school.
Most private lenders send the money you borrow directly to your school. However, you'll want to verify they received the loan funds in the correct amount.
Am I Eligible for Private Student Loans?
Most individuals who are considering private student loans have a range of important questions when it comes to eligibility. For example, how do you qualify for a private student loan? Perhaps even more importantly, how do you get a private student loan without a cosigner?
Generally speaking, private student loans are only available to borrowers with good credit or a FICO credit score of 670 or higher. However, many private student loan companies that disclose their eligibility requirements ask borrowers to have a credit score in the mid-700's.
Generally speaking, private student loans are only available to borrowers with good credit or a FICO credit score of 670 or higher.
That's why many borrowers who take out private student loans for college do so with the help of a cosigner. In fact, a recent study by the data analytics company MeasureOne revealed that 92% of undergraduate students who took out private loans during the 2021-22 academic year did so with the help of a qualified cosigner. Meanwhile, 66% of graduate students who took out private student loans had a cosigner the same year.
How Much Should You Borrow?
According to Lux, student loan expert, the main borrowing metric students should focus on is the total amount of student loan debt they'll have after college. With that in mind, the ideal limit for student loan debt varies from person to person based on various factors: the industry they plan to enter, their first-year earnings, and the earning power they will likely have as they progress through their careers.
That said, Lux suggests borrowing up to a person's expected salary after graduation as a general rule of thumb. This basic limit will prevent most students from borrowing more than they can reasonably repay while letting those who will likely earn more after college borrow more so they can graduate.
Lux gives the following example:"If you expect to earn $65,000 per year after school, you want to limit borrowing to $65,000."
What Is the Best Private Student Loan for College?
The best private student loan for college is one that offers the best rates and terms you can qualify for. Lux explains that it is absolutely critical to shop around, especially since some lenders offer superior rates and terms than others without any notable downsides.
In addition to checking around to find the lowest fixed or variable rates you can find, Lux says you should also make sure the lender doesn't charge any loan origination fees.
"The entire cost of borrowing should be limited to the interest charges," he says.
Also, make sure any lender you're considering doesn't charge prepayment penalties. After all, you should have the right to pay your loans off early without penalty if you're in a position to do so.
In the meantime, working with a lender who has a good reputation is also a smart move. Once you're ready to begin comparing lenders, you should take the time to read over user reviews on platforms like Trustpilot and the Better Business Bureau.
Best Private Student Loans for Those With Bad Credit or No Credit
As we mentioned already, private student lenders typically have fairly tight eligibility requirements when it comes to borrowing for college. With that in mind, the best student loans for bad credit are federal student loans since they do not require a credit check.
Some private lenders do offer alternative loan types as well, which can work for borrowers who have fair credit or no credit history at all. For example, a student loan company called Ascent offers outcomes-based student loans that let borrowers qualify based on future income without a cosigner if they don't have a credit score.
Meanwhile, a private student loan company called Funding U also offers loans without a cosigner to undergraduate students over the age of 18, who are either US citizens, permanent residents, or DACA recipients. However, interest rates from this provider are higher than other private lenders can offer.
Student Loan Forgiveness: Your Questions Answered
If you're considering private student loans, it's only natural to have some serious questions about how you'll pay them off — and if you'll actually have to. You may be wondering, "Will student loan forgiveness include private loans?" Not only that, but can the government cancel private student loans in the first place?
While nobody knows what the future holds in terms of broad student loan cancellation, it appears the Biden administration is planning to cancel up to $10,000 in student loan debt per borrower sometime in the near future.
However, forgiveness will almost certainly only apply to federal student loans, which have had payments paused and interest rates set at 0% since March of 2020 due to the COVID-19 pandemic. Income limits are also likely to apply, so the cancellation of federal student loans will be limited to those whose earnings fall below certain thresholds.
According to Lux, if you take out federal student loans now or refinance federal loans with a private lender, you'll almost certainly be shut out of any future forgiveness plans that come to fruition.
FAQs About Private Student Loans
Can You File Bankruptcy on Private Student Loans?
---
While many experts have said student loans are practically impossible to discharge in bankruptcy for years, a recent bulletin from the Consumer Financial Protection Bureau tells another story. They note that private student loans may be discharged in a normal bankruptcy proceeding in various circumstances, including:
Loans where the loan amount was higher than the cost of attendance
Loans to pay for education at places that are not eligible for Title IV funding
Loans made to a student attending school less than half-time
There are also additional circumstances where student loans can be discharged in a normal bankruptcy, such as if a loan was made to cover fees and living expenses incurred for a student who was studying for the bar exam or other professional exams. Loans made to cover fees and living expenses for a student in the midst of a medical or dental residency may also be discharged in bankruptcy if certain conditions are met.
How Can You Consolidate Private Student Loans?
---
The only way to consolidate private student loans is through refinancing. Fortunately, you can refinance private student loans at any time with any lender who will approve you.
Can You Refinance Private Student Loans?
---
Borrowers can absolutely refinance private student loans if they want to do so, but they should only take this step if they're getting a better deal. For example, it can make sense to refinance private student loans to get a lower interest rate, a lower monthly payment, or both.
Can Private Student Loans Garnish Wages?
---
Your wages can be garnished if you default on private student loans or federal student loans. However, the creditor must sue you in federal or state court and get a money judgment in order to do so.
How Can You Pay Off Private Student Loans?
---
When you choose a private student loan, you'll be asked to settle on a monthly payment and payment timeline that works with your needs and your budget. To pay off your loans and get out of debt, you'll want to ensure that you pay your monthly loan bill in full and on time. By never paying late, you'll avoid having to pay late fees and extra interest charges that can rack up.
Like other types of loans, you can also make more than the minimum payment on your student debt if you can afford it. Doing so will help you save money on interest, but it will also accelerate your repayment schedule. Just make sure that you choose a private student loan that doesn't charge prepayment penalties.
Related Articles
Student loan forgiveness is a band-aid. What will really solve the problem?
Experts weigh in on what needs to happen to stop tomorrow's students from drowning in debt.
Financial Aid Letters: Why they're so confusing, and how to read them
Financial aid can be notoriously confusing for students trying to make informed college decisions. We talked with experts about why that is and how you can demystify the process.