Guide to Reproductive Health Care in College
The overturning of Roe v. Wade in late June of 2022 means approximately 1 million college students in 21 states will have reduced or no access to abortion based on federal enrollment data from the 2019-20 school year.
The issue has highlighted the importance of access to reproductive health care, including contraceptives, birth control, and accurate information on preventing STDs and unwanted pregnancy for college students.
As a result, some students are factoring in access to reproductive health care in their college search. Reproductive health care is an issue that uniquely impacts college students. An unwanted or unplanned pregnancy can prevent people of both sexes from finishing school, leaving students with loan debt, no degree, and fewer pathways to career and salary advancement.
Research shows many factors can prevent female college students from accessing reproductive health services, including fear of social stigmas or judgment, a lack of transportation, cost, or misinformation and distrust. The main factor preventing male college students from accessing reproductive health care, however, is a lack of knowledge about what services are available or how to access them.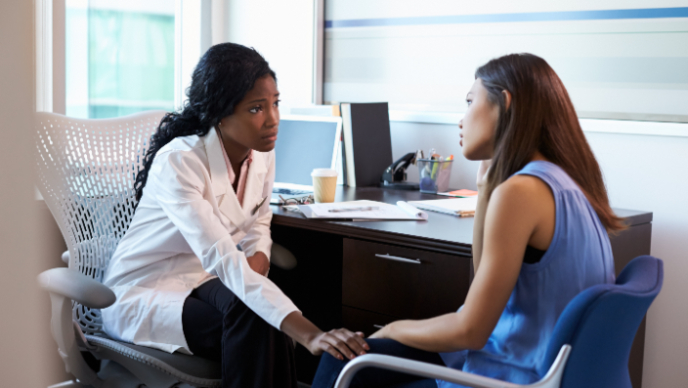 Statistics on College Students and Reproductive Health Care
What Is Reproductive Health Care?
Reproductive health care is often discussed in relation to female health, but it's highly important for both sexes. The World Health Organization defines reproductive health as "a state of complete physical, mental and social well-being and not merely the absence of disease or infirmity, in all matters relating to the reproductive system and to its functions and processes."
This state of well-being means everyone should be able to have a safe and healthy sex life, both physically and emotionally. It also implies people can choose if and when they want to do so. The ability to have safe sex means avoiding sexually transmitted infections, unintended or unwanted pregnancy, and engaging in consensual sexual activities.
Reproductive health care isn't just a women's issue or something straight couples need to consider. Avoiding sexually transmitted infections and engaging in consensual sex is important for everyone, including men, trans people, same-sex partners, people in long-term monogamous relationships, and even those who are infrequently sexually active or only engage in oral sex.
Contraception
Access to a variety of contraceptives is one of the most important components of reproductive health. They help prevent pregnancy, and some, like condoms, protect you from herpes, HIV, and other STIs.
Different Types of Contraceptives
Barrier Methods:
Protect from STIs and pregnancy in some cases

External condoms (protects against pregnancy)
Internal condoms (protects against pregnancy)
Dental dam
Sterile gloves

Birth Control:
Only protect against pregnancy

Pill
Patch
Ring
Shot
Implant
IUD - hormonal or copper with no hormones
Diaphragm or cervical cap
Birth control sponge
Spermicide

Emergency Contraception:
Need to be used within five days of unprotected sex and prevents pregnancy BEFORE it occurs

Some IUDs (works up to 5 days later)
ella morning after pill

Most effective pill, works up to 5 days
Need a prescription
Planned Parenthood recommends using KwikMed for a fast consultation and next-day delivery here

Levonorgestrel pill which you can buy over the counter in most pharmacies
Planned Parenthood offers comprehensive guides on different types of birth control and contraceptives, and on emergency contraception and how to access it quickly. Healthline also provides a guide on safe sex for LGBTQIA+ people, although this resource is also highly useful for any college student. The Healthline guide includes explanations on how to use male and female condoms, dental dams, and gloves or finger cots to have safer sex.
STI Testing and Prevention
We covered the importance of condoms, dental dams, and other barriers in the contraceptives section. However, another crucial piece of reproductive health is preventing sexually transmitted infections. While condoms and other barrier methods do protect you, one of the most important things you can do is get tested and have your partner get tested.
Getting tested for STIs regularly is critical for sexually active people with more than one partner or those who are having unprotected sex. Having honest conversations about who else you're having sex with and how often you're tested with partners allows both people to make informed choices about their sex life.
If the health center at your school doesn't offer testing, take a look at Healthline's guide for information by state, including free, low-cost, and LGBTQ-friendly testing sites in each state.
Abortion
Despite the Supreme Court ruling on Roe v. Wade, abortion remains an essential part of reproductive health care.
Legal issues surrounding access to abortion will continue to play out in state courts as states ban, restrict, or expand access, and those laws are challenged. Students should be aware of the legal restrictions on abortion in the state they go to school in and the state they are a resident of. The New York Times is keeping an updated list of abortion laws by state.
Depending on where you live and go to school, you may be able to access the abortion pill, called mifepristone, which can be prescribed through a telehealth appointment. Although some states are trying to limit access even to abortion pills, the FDA may take measures in the near future to ensure access across the country. This issue will also likely be worked out in the courts over the next few years.
Sexual Education
Sex ed is the cornerstone of reproductive health. Students need to know all of this information to make informed choices about their bodies and their futures. Info on STIs and pregnancy prevention are two of the main components of sex ed. The other is one that often gets left out of the conversation: consent.
A lack of awareness or understanding of how consent works, why it's important, how to ask for it, and how to give it leads to more unwanted sexual encounters, including rape. Sexual assault and rape are already huge issues on college campuses. Data from the National Center for Education Statistics show forcible sex offenses are the most common type of crime on campus.
It negatively impacts men, women, trans, nonbinary students, same-sex and opposite-sex couples, those in monogamous relationships, people who are married, and anyone who is sexually active.
One of the most important things you can do is learn about consent and its role in healthy relationships and safe sex. Healthline has a great guide on consent, including how to ask for it, what it sounds and looks like, and consent when alcohol is involved.
What Are Your Rights as a Student?
Title IX
Introduced in 1972, Title IX is the federal regulation requiring equal access to education regardless of sex. It's often associated with gender equality in higher education and has a long history of securing women's rights in areas like college athletics and requiring schools to adequately handle sexual harassment and assault.
Title IX does not protect access to contraceptives, emergency contraception, or abortion for students. However, it does prohibit discriminating against students on the basis of pregnancy, childbirth, false pregnancy, termination of pregnancy (abortion or miscarriage), or recovery from these conditions.
It also requires universities to excuse absences related to pregnancy, childbirth, miscarriage, abortion, and recovery time as long as your doctor deems it medically necessary.
These protections apply to all aspects of an educational program, including athletics, financial aid, scholarships, career counseling, labs, clinicals, and other areas of the college experience.
The Department of Education released proposed changes at the end of June 2022 that, if passed, would strengthen protections for students based on pregnancy and related conditions.
Title IX and religious exemptions
Schools controlled by religious groups are able to request exemptions to some student protections designated under Title IX. Changes to Title IX under the Trump Administration made it easier for more schools to use religious exemptions and to claim religious exemption after the fact if they are the subject of a Title IX complaint, which is still in effect.
A number of lawsuits from students and alumni of religious colleges are currently challenging the legality of both religious exemptions to Title IX and changes under the Trump Administration.
The Department of Education published a list in 2016 of all colleges that have received waivers to Title IX's pregnancy and parenting provisions since 2009, which Jessica Lee at The Pregnant Scholar has published in an easy-to-read format.
More religious schools may seek waivers to Title IX in the coming years, which could exempt them from legal requirements prohibiting discrimination against certain groups of students.
Confidentiality laws related to student healthcare
Family Education Rights and Privacy Act (FERPA)
FERPA laws protect students' education records. Health records maintained by your university typically are protected by FERPA instead of HIPAA, the law that usually protects health records outside of colleges.
Generally speaking, your school can't disclose your health care records to your parents or others under FERPA without written consent from you. However, there are a few exceptions to this rule. They can disclose information without consent in a health or safety emergency if necessary. Records can also be disclosed if you're under 21 and have violated a law or school policy related to drug and alcohol use or possession, or in compliance with a judicial order or court subpoena.
Essentially, your school can't legally disclose information about your health to your parents without your consent, unless it's a health or safety emergency. However, some parents may have their children sign FERPA waivers or releases. If you signed this form, your parents will be able to access your health records.
How to Access Reproductive Healthcare in College
The health center at your school should at the very least offer free condoms, although ideally, you'll be able to get birth control and other contraceptives there too. However, some schools, including religious universities or those in more conservative areas, object to birth control, sex before marriage, casual sex, or all of the above.
Unfortunately, preventing young people from accessing contraceptives or adequate sex education doesn't stop them from engaging in sexual activity — research shows abstinence-only education makes people less likely to use contraceptives and actually increases unintended pregnancy rates.
Luckily, the widespread availability of telehealth means you can now access some reproductive health services from anywhere.
Where to look
Most college campuses have a health center of some kind. Check with your student health center to see what services they offer.
If your school doesn't offer services, look for a local clinic. Planned Parenthood is usually a good bet, especially for students who are worried about privacy. They offer phone appointments, video appointments, and in-person visits, and have clinics in all 50 states and the District of Columbia. They can help you with virtually any reproductive health care issue, answer questions, and provide free and low-cost services, including free condoms.
Family planning or health centers typically offer similar services. If there is no Planned Parenthood or family planning center near you, you can go to a regular doctor.
Resources:
Caution: Not All Clinics are the Same
Some clinics, often called crisis pregnancy centers or pregnancy resource centers, advertise pregnancy testing and care. These clinics offer limited services and are typically run by nonprofit groups to dissuade people from getting abortions. While many appear to be health clinics, they are exempt from the licensing, credentialing, and regulations processes that medical clinics undergo.
Because they are not licensed clinics staffed with medical professionals, these centers do not need to adhere to the legal requirements a medical clinic would, such as client confidentiality. These clinics do not offer information on abortions or provide abortions, nor do they typically offer treatment for STIs or any other reproductive health care outside of pregnancy testing, counseling, and services to support expecting mothers. Use the Crisis Pregnancy Center Map to check for clinics in your area.
Resources for Accessing Reproductive Health Services Off Campus
Where to get birth control
Where to get emergency contraception
Where to get condoms
Where to get STD/STI testing
Abortion information and resources
How to Pay for It
Birth control, condoms, and emergency contraception typically cost under $50. If you have health insurance or qualify for Medicaid, you may not have to pay anything. STD/STI testing is often free. Planned Parenthood and other clinics may offer sliding scale or low-cost services.
Medication abortions tend to be more expensive if they aren't covered by health insurance. They can cost up to $750, and there are financial assistance funds available to those who can't afford one. The National Network of Abortion Funds may help you access aid in your area. Plan C offers resources for finding medical abortions, free and confidential legal information, a medical questions hotline, and other services. They recommend using a VPN to protect your internet privacy and offer information on how to do so.
Questions about reproductive health care and insurance for students
Student health care policies are legally required to provide all FDA-approved contraceptive methods for women, including sterilization, with at least one version of every type offered at no cost to students. Religious schools may opt out of this.
If you're on your parents' insurance and are worried about them seeing what services you receive on the bill, you may be able to ask your insurance company to send that information directly to you instead. This guide from Bedsider can help students navigate that process. Nurx also offers some helpful advice.
If you don't have insurance, your best bet is going to be searching for free or low-cost services in your area. Check with your university health center first, then look at nonprofits or local clinics near you. Healthline also publishes a useful guide on finding free or low-cost options for birth control in your state.
Aside from low-cost or sliding scale services, you may also be able to set up a payment plan. Ask your health center or local clinic about payment options and what costs will be associated with your services.
Choosing a College: What to Look For
Choosing a college that allows you to access the level of reproductive health services you need can be difficult, especially if you can't talk to family or friends about these issues.
Power to Decide offers an interactive map that shows how many health clinics are available in counties and states across the U.S. It also highlights contraceptive deserts, where there aren't enough clinics available to serve the population.
You can check the New York Times' list on abortion access by state, and check with your prospective schools' health centers to find out what reproductive health care options are available there.
For students concerned about abortion access, California public universities may be a good option. They will be legally required to provide medication abortions on campus starting in January 2023. Colleges in cities also may be more likely to have access to reproductive health clinics than rural areas. For those who are anti-abortion or who prefer a college that emphasizes more conservative values on sex, religious colleges may be a better option, including major universities such as Notre Dame or Georgetown.
Related Articles
Guide for College Students Experiencing Homelessness
Learn about the barriers unhoused students face — and how to overcome them.
Reversal of Roe Will Likely Slow Down Decades of Economic Empowerment for Women
Historical labor data and forward-looking econometric models suggest a likely deterioration in various measures of women's economic well-being and equity.