How To Save Money in College
Saving money in college may not seem important at the time, but spending freely while borrowing for school can leave you with debt that lasts for decades of your life.
No, that is not a typo. Recent data from the Federal Reserve shows that college students with loans carried a median debt load of $20,000 to $25,000 from May 2020 to 2021. Where many borrowers repay that kind of debt on a standard, 10-year repayment plan, others opt for extended repayment or graduated repayment plans, or they repay their loans on income-driven plans that ask borrowers to pay a percentage of their "discretionary income" for 20 to 25 years.
That's a long time to fork over a percentage of your pay toward student loans, especially when you may also be trying to purchase a home, start a family, or both. Fortunately, there are many ways to save money in college that can help students reduce their borrowing needs.
If you're wondering how to save money in college so you can graduate with the bare minimum amount of student debt, you should start by rethinking everything about your college career, including the school you plan to attend. Read on to learn about the best ways to save money on higher education, according to the experts.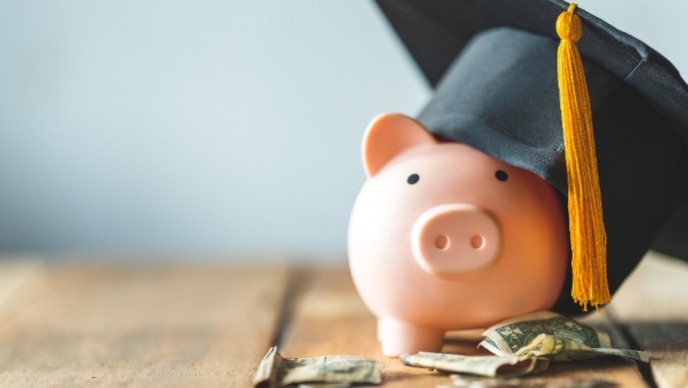 Use a Monthly Budget or Spending Plan
Using a written monthly budget is smart during every stage of adulthood, but that's even more true during times when cash flow is tight. After all, you may have a limited amount of money coming in while attending college, either through excess financial aid you receive or paid work you're doing. Without a monthly budget or spending plan to stick to, it would be easy to spend more than you should and rack up debt that is hard to pay off.
Financial advisor, Erik Kroll, says that college students should avoid credit card debt at all costs. "You may not have to pay now, but those interest payments will come calling in a hurry," says Kroll, who also runs the website Student Loans Over 50.
Unless you have the cash to pay your credit card bill off in full each month, you should avoid using plastic for any of your college expenses. Instead, you should use a debit card or cash, and you should base your spending on a written plan you create at the beginning of each month.
To create a monthly budget that works during college, you can start by creating two columns on a piece of paper — one column where you'll list your income, and another where you will list your monthly expenses and bills. From there, you'll list all the income you have coming in and the expenses you pay each month in their respective columns. For items that fluctuate, such as food or entertainment, you can come up with an estimate that you hope to stick to.
Also note that there are many budgeting apps that can help you monitor your spending and stick to a plan, and some of the best ones are free. For example, the budgeting app Mint lets you seamlessly track your spending and bills using your computer or your favorite mobile device.
Your budgeting strategy may not work perfectly at first, but you can make tweaks to your plans so they work better over time. Most importantly, you'll have a written spending plan you can stick to, and you will have a general idea of where your money is going every month.
How To Save Lots of Money on Necessities
Jocelyn Paonita Pearson, college funding expert and founder of The Scholarship System, says there are tons of ways to save money on various college costs. However, she agrees that it all starts with sticking to a budget and understanding the difference between wants and needs.
"While not fun, I learned this the hard way," she says, adding that she remembers eating out at restaurants during her freshman year of college despite having an on-campus meal plan.
"At the end of first semester, I had spent over $1,000 without even realizing it," she says.
If you're wondering how to save money as a college student on a daily basis, you'll want to start with your necessary expenses.
Paonita Pearson says that one of the easiest ways to save thousands of dollars is by having roommates or at least not trying to pay for your own apartment while you're in school. Using public transportation instead of having your own car is another way to save money since you'll avoid the costs of gas and insurance as well as having to pay for parking.
Knowing about all the other ways to save money in college can make it considerably easier to stick to an in-college budget. The chart below shows all the different savings strategies you can consider during college and even after you graduate.
Potential Savings Strategies
Savings Category
Ways to Save Money in College
College books and supplies

Borrow or rent textbooks instead of buying
Consider buying used textbooks instead of new
Borrow supplies before buying when you can
Use your student discount to save on school supplies

College tuition and fees
Food and drink

Limit dining out to a few times per month
Batch cook and freeze extra portions for later
Have pitch-in dinners with your friends instead of restaurant meals
Go out during happy hour
Shop sales at the grocery store
Buy your favorite foods on sale
Buy staples in bulk
Carry drinks and snacks in your backpack
Brew your own coffee

Housing

Live with roommates
Live at home with your family
Choose an online college so you can keep housing costs in check

Transportation

Take public transportation
Carpool with friends when you can
Live within walking distance of school
Take online classes to avoid driving
Invest in a used bike

Finances

Create a written budget each month
Use free budgeting apps
Pay bills on time to avoid late fees
Look for low-cost or free banking options
Save up for large purchases
Build an emergency fund
Choose the right student loans for college

Health

Work out in your college gym instead of buying a gym membership
Walk to and from class and work
Buy generic medicines when you can
Take Advantage of School Resources
It's also smart to take advantage of any school resources that may be available to you, and this is true whether you attend college in person or online. Some of the most common campus resources that can help you save money include the following:
Career center: Paonita Pearson explains how many universities have on-campus job opportunities that may be flexible enough to fit around a college schedule. You may be able to learn about these jobs at your school's career center or by browsing your school's online career resource page.
College counselor: According to Kroll, your college counselor can be a valuable resource in more ways than one. "Having a good counselor who can help plan out the logistics of getting all your classes in at the right times so you can graduate as quickly as possible," he says.
College library: Use your school's library to complete research for your courses or check out books you need to complete various projects. Many schools also offer online libraries you can access from anywhere.
Fitness center: Work out for free at the on-campus fitness center instead of paying for a gym membership.
Food pantry: If you need access to food and supplies you cannot afford, your school's food pantry can help you fill in the gaps.
Student health center: Visit your campus health center for basic healthcare needs, immunizations, and tests at a discounted rate. Also seek out free or discounted care options related to your mental health.
Apply for Scholarships and Financial Aid
According to Paonita Pearson, students should reach out to their school's financial aid office on a regular basis (or their high school guidance counselor) to learn about upcoming scholarship opportunities. Some financial aid offices will post scholarships on social media or the university website, and some just keep a running list in the office, she says.
Other tips that can help you find and apply for scholarships include the following:
Search for Local Scholarships First

Paonita Pearson says there are all kinds of scholarships that can be easily found online, but that doesn't mean each one is necessarily legitimate. Instead of applying blindly to every potential online scholarship you come across, she recommends starting your search locally by reaching out to civic organizations, businesses, clubs, and banks, for example.

"Be wary of deadlines, especially for institutional-based scholarships," she says.

To streamline the process, you can also work on a handful of essays that you can easily reuse with some minor editing. "Most scholarships have the same or similar prompts," she says.

One of the best ways to increase chances of receiving scholarships is setting aside a consistent time every week to apply or search for scholarships, says Paonita Pearson. "This process is an ongoing process, but with diligence and consistency, students can reap huge rewards."
Don't Be Afraid to Ask

Also remember that some scholarships won't be discovered naturally through your everyday activities, so it can help to be proactive during your search.

Paonita Pearson said that she personally won an $1,800 recurring scholarship simply by asking her school's advising and financial aid office if they had any scholarships available.

"Sometimes these scholarships have very little competition and are low-hanging fruit for students," she says. "And many times, these scholarships are only awarded once the student is enrolled at the school, versus upon admission."
Fill Out the FAFSA

Paonita Pearson says that everyone should fill out the Free Application for Federal Student Aid (FAFSA), even if they believe they're ineligible.

This form from the federal government helps college students and their families find out what kind of financial aid they're eligible for, if any. Not only is the FAFSA the gateway to getting federal student loans, but it can help students learn if they're eligible for grants, federal work-study programs, state-based financial aid, and/or scholarships.

Some schools may even offer "gap" scholarships for those who don't qualify for the Pell Grant, a need-based award that doesn't have to be paid back. However, you won't know about these gap scholarships if you never take the time to fill out the FAFSA.
Take Advantage of GI Bill Benefits
If you're a military student or considering the prospect of joining the armed forces, there are an array of college benefits you should keep in mind. For example, you can get all or some of your college costs paid for, and training programs are available for veterans, specifically.
Based on information shared by the U.S. Department of Veterans Affairs, eligible applicants who use GI Bill benefits can get help with tuition and fees at four-year universities, the best online colleges, community colleges, and even graduate school.
You may be able to use GI Bill benefits to pay for courses at more than one school, or for multiple degrees you pursue over time. Benefits can also be used for tuition and fees paid directly toward the school, as well as books and a housing allowance. You can even receive a housing allowance through the program if you attend college online and live at home, although the housing allowance rate for online students is based on 50% of the national average, notes VA.gov.
Choose an Online Program
If you're wondering how to save money for college and considering all available options, you should also think long and hard about choosing an online degree program. Many traditional colleges and universities offer distance-learning programs that mimic their on-campus curriculums exactly, and the savings accrued from pursuing a degree online can be substantial.
How can pursuing an online degree save you money? Consider the following as you decide where to earn your degree:
Avoid transportation costs completely. Pursuing higher education online can help you avoid having to drive back and forth to a college campus for classes.
Choose the school you want, not just a school that's nearby. Pick the school that fits your budget and your educational needs best regardless of where you live.
Continue living at home, or choose an affordable living situation. Continue living with roommates or at home with your parents, as they will help you share living expenses.
Tuition and fees can be lower at online schools. Many online colleges offer affordable tuition and fees that cost less than similar on-campus programs.
Make sure you compare several traditional schools with online programs to see how much you can save. You may be surprised at how many affordable online degrees are out there and at the other ways you can save money by learning at home.
Kroll says that, generally speaking, he advises students and their families on finding good schools with lower all-in costs. From there, you can spend some time applying to multiple colleges before you settle on your pick.
"The more offers you get, the better chances you have of getting a good deal for the cost of the school," he says.
Bottom Line
Saving money in college requires some extra effort at a time when you're already busy trying to better yourself, but the benefits can be realized for decades to come. After all, lower college costs can lead to a lower debt burden after you graduate, and that means you'll be able to funnel more of your income toward your personal life goals, such as buying a home or traveling the world.
With that in mind, you should consider all the ways to save money during college we've outlined in this guide and how you can implement most of them right away. By spending less now, you can position yourself to have the life you want later on.
Related Articles
How Parents Can Help Pay for College
Here's how parents can help their children pay for college — and which solutions they should avoid.
Financial Aid Letters: Why they're so confusing, and how to read them
Financial aid can be notoriously confusing for students trying to make informed college decisions. We talked with experts about why that is and how you can demystify the process.