The Essential School Supplies Online Students Need to Succeed
Distance learning offers several unique benefits — such as flexible schedules and more programs to select from without relocating — making it the perfect choice for both undergraduate and graduate students who prefer a nontraditional approach to higher education. If you've decided to enroll in an online degree program or simply plan to take a number of online classes, this list of online college school supplies will help you set yourself up for success in the distance education environment. Be sure to check with your instructors or refer to the class syllabus before making any major purchases to ensure you're buying exactly what you'll need for your courses.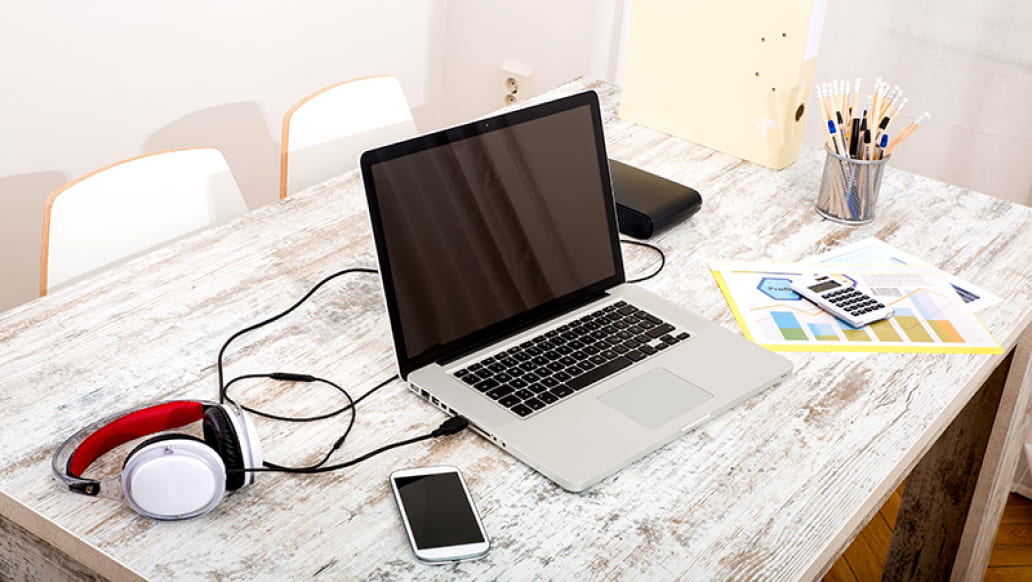 Tech Gear for Learning
Given that distance-learning students conduct the majority of their educational activities online, it's only natural for them to need a number of technology items — even more so than students attending traditional schools. The tools and services listed below make online learning easier, and they may even alleviate some of the stress that can come from technology glitches. All of these supplies for online college can be purchased through a variety of in-store and online retailers, and some directly from the manufacturer's website. (Note that we independently researched these items and price ranges were accurate as of the publication of this article.)
Computer or Laptop
The most essential online school supply is a reliable computer, and it's important to have one that meets your school's specifications so that you can easily use whichever online learning management system is provided. Whether you prefer a desktop or laptop computer, many options are available from Apple, HP, Dell, Lenovo, ASUS, and others. Prices vary widely depending on each computer's capabilities, but an average range is $400-$1,000. It's best to choose a model with a built-in webcam, but if your computer doesn't have one, you can buy an economical webcam for $30-$40.
Keyboard and mouse
Regardless of whether you choose a desktop or laptop computer, an external keyboard and mouse are smart buys. These items prevent fatigue and strain on your body when you're working at your computer for long periods of time. Some are included with the purchase of a computer, but if not, many models are readily available and affordable. Keyboards start at about $35, and a basic mouse runs $10-$15.
External monitor
If you're working on a laptop, you may want to purchase an additional monitor. Laptop screens can be quite small, making it difficult to shift between documents or browsers as you work. Depending on size and other characteristics, monitors typically cost $120-$300.
High-speed internet access.
Online learners living in remote areas may find it challenging to access broadband internet, but if it's at all possible, you should upgrade to ensure a quality online learning experience. Nationwide, the average cost of high-speed internet service is $61 a month, which is only about $10 more than the average for DSL service.
Printer and printer paper
Although you'll create and submit most of your coursework digitally, it's useful to have a printer for reviewing information you've collected and assignments you've written. For some online students, a built-in scanner may also be necessary for submitting homework assignments. Prices for all-in-one printers vary widely from $80-$300, and you'll want to factor the cost of the toner cartridges into your purchasing decision. As for printer paper, single reams sell for less than $10, but if you anticipate using a large quantity of paper, you can save by buying in bulk.
Flash drive.
Anyone who's ever lost work in a computer crash knows that backing up files is essential. The peace of mind alone is worth the $10-$15 investment in a smaller flash drive.
Portable wi-fi router and portable charger power bank
One of the advantages of online learning is that you can do it anywhere, but you may want to purchase a few additional tools that ensure continued activity when you're away from home. Portable chargers keep your computer and other devices juiced up and ready for work, and most are affordable at $15-$40. Hotspot routers, which average $125-$200, give you a reliable, secure connection to the internet wherever you go.
Earbuds or headphones
Some course materials include audio components, so these items can be particularly useful when you're accessing coursework away from home or at least away from your computer. The choice between earbuds and headphones involves several factors, such as comfort, intended use, and personal preference. Plenty of economical options are available in the $40-$60 range, but some earbuds can cost up to $200 and some headphones up to $400.
Graphing calculator
This last tech item is surprisingly controversial. Some professors require students to do their calculations by hand, so make sure your calculus or statistics instructor will let you use a calculator before you invest. If you are allowed to use one, Texas Instruments is often the preferred brand, and models run $35-$140 depending on their capabilities.
Ergonomics: The Key to Staying Healthy and Productive
Let's be honest — college students of any age don't necessarily take the best care of themselves. We all know we should eat well, stay hydrated, and get a decent amount of sleep, but juggling the responsibilities of school with other commitments can make it difficult to prioritize our health. One way to promote good health is to make sure your desk and homework space are set up according to the principles of ergonomics.
Ergonomics is a scientific approach to arranging the objects in your workspace in ways that diminish strain and fatigue and boost energy. To give you some examples, your computer monitor should be positioned at eye level so that you're not continuously bending your neck to view your screen. Your keyboard and mouse should be slightly below the level of your arms and hands when they're bent at a 90-degree angle from your elbow. This prevents strain on your wrists and hands. So, as you're setting up or refining your study space, consider consulting some online guides to ergonomics to find easy ways to protect your health while completing your schoolwork.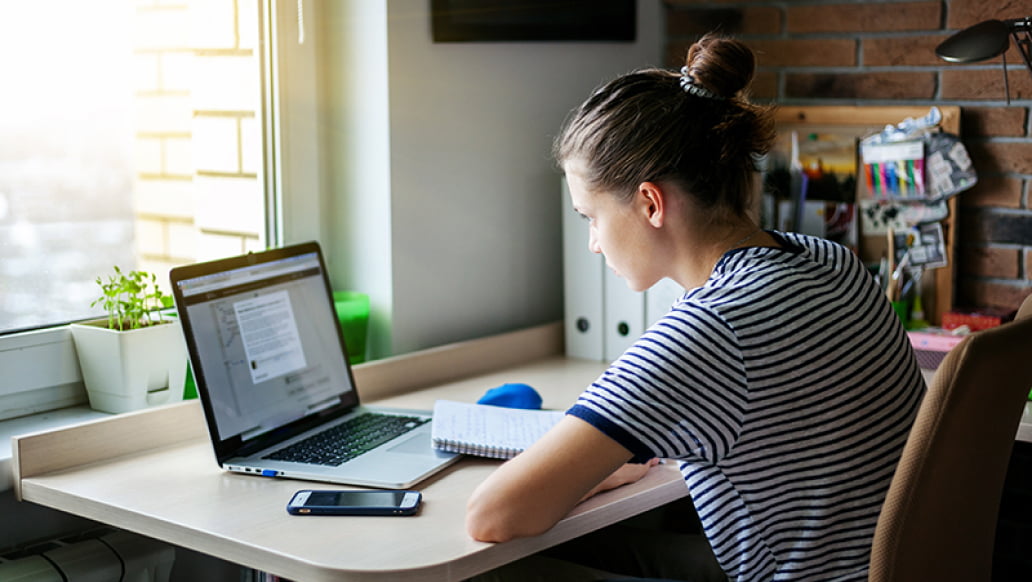 Homework Essentials
Depending on the online college classes you're taking and the grades you hope to earn, you may find yourself spending anywhere from five to 10 hours per class each week on reading course materials, studying, and completing homework assignments. With that much time devoted to online courses, you'll want to create a dedicated homework space that supports you and your efforts. The following supplies for online school should help promote physical wellbeing and effective study habits.
Adjustable desk chair
As an online student, you're going to be spending more time seated at your desk than usual, so you owe it to yourself to invest in a quality desk chair that will support you physically. Look for models that offer back and arm support that you can adjust to fit your body. Also check to make sure the office chair you purchase is designed for five to eight hours of daily use. For quality at this level, most recommended brands fall in the $150-$300 range.
Laptop stand
If you've opted for a laptop and you spend a lot of time reading or writing on your computer, a laptop stand raises your screen to the appropriate height to avoid straining your neck and shoulders. Many adjustable or stationary models are available for $20-$35 from office supply stores and other retailers.
Basic school supplies
Pens, pencils, highlighters, sticky notes, paper clips, note cards, three-ring binders — these familiar standbys still do a great job of helping you keep track of important information and notetaking. Purchased all at once, these may total up to about $35. One extra item you may find useful is a desk organizer to corral these items when not in use. A wide range of school supply options is available, most for $15-$30.
Desk lamp
Many people don't realize this, but poor lighting can cause eye strain and headaches while negatively impacting your mood. For a desk lamp that allows you to adjust it to fit your needs, experts recommend brands like TaoTronics, BenQ, JUKSTG, and LEPOWER. However, these sophisticated lighting devices can cost as much as $250, so you may also want to investigate more affordable LED options averaging $25-$45.
Planner
Looking at historical trends over the last 20 years, nearly half of all full-time students and approximately 80% of part-time students are employed while in school. Many students also serve as caretakers for parents, children, and others, and some have other time commitments as well. In short, if you're a college student, you probably have a packed schedule. Using some kind of planner or calendar can help you stay organized while meeting deadlines for homework assignments and projects, and there are plenty of handwritten and digital choices. The Any.do and Notion mobile apps, for example, let you combine your calendar with your to-do list at minimal cost, but there are dozens of free alternatives available as well. Many apps can also be integrated with your school's learning management system and other online tools. You may prefer a more traditional, notebook-style planner at a cost of $20-$30, or perhaps even a combination of both to keep you on track.
5 Ways to Save on Textbooks and Course Materials
According to the most current data from the College Board, college students spend an average of $460 per school year on course materials. Many have tried to cut costs by ordering older or foreign editions of textbooks from online sellers — or by not purchasing course materials at all — but these practices often mean that students don't have what they need to perform well in their online classes. The following are some suggestions for ways to save money while gaining access to the information that is necessary to support your education.
Search the web for your school's campus store website or one of the many other websites offering textbook exchange programs. You may be able to locate a current edition of the book you need and either buy it at a low price or swap it for a book you no longer need.
Search for "college textbook rentals," and you'll be taken to a number of websites (Amazon, Chegg, Campus Book Rentals, etc.) that allow you to rent print or digital copies of books and other course materials for less than what you'd pay to buy.
Visit the textbook publishers' websites. Publishers such as McGraw Hill and Cengage Learning offer subscriptions to many of their digital textbooks and course materials for a relatively low fee.
Look for your textbook in open educational resources, such as Open Education Network, OER Commons, and Openstax. These resources give you free access to course materials that are in the public domain. You may find that your instructor has chosen a textbook or other learning materials from one of these providers.
Check your local library to see if you can borrow your textbook for short periods of time. Even if the library doesn't have the book, you may find other course materials and reference materials that you can use for free. For example, journalism students may be able to use the library's subscription to the Associated Press style guide rather than paying for their own subscription.
Special Items for Specific Majors
While many undergraduates and grad students never need much more than a few online school essentials and a well-organized place to work to complete their online degree programs, some may need additional supplies related specifically to their course of study. The following list offers some examples.
Staying on Budget
After reviewing this list of supplies for online college, it's easy to see why the College Board estimates that college students spend $780-$1,000 on school supplies each year. Unfortunately, these expenses are not usually covered by financial aid. However, there are ways to save. For instance, your school may have arrangements for discounts on certain brands of products through partner programs. Also, your school's library and IT department may loan or rent some items to enrollees. With careful planning and savvy shopping, you can still afford to purchase what you need to make your school experience a success.
Related Articles
2023 Best Online Human Resources Degrees
Find the best online bachelor's degree in human resources that's right for you. Our list is ranked by salary score.
8 Steps To Prepare For the First Day of Online Class
Getting ready for the first day of college takes mental and physical preparation. Discover 8 tips for setting yourself up to succeed in online classes.