2023 Most Affordable Online Colleges for Social Work Degrees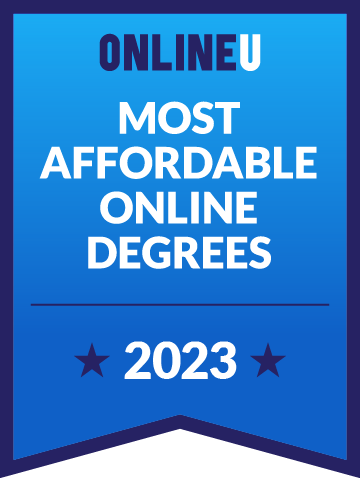 Every community has people in need of support, and social workers provide a vital service when it comes to helping individuals and families get back on their feet. Earning your bachelor's degree in social work online can prepare you to assist disenfranchised, vulnerable people in your community by becoming an advocate, counselor, therapist, or manager in the vast field of social work. An online social work degree — or a related degree like human services — can lead to a satisfying career that uplifts people during times of crisis by giving them the tools they need to succeed.
View our methodology for more details about rankings or learn more about us.
All tuition numbers were manually collected and verified
| Rank | School | Locations | Annual Tuition |
| --- | --- | --- | --- |
| # 1 | Eastern New Mexico University - Main Campus | Portales (NM) | $6,624 |
| # 2 | Wichita State University | Wichita (KS) | $6,843 |
| # 3 | Mount Vernon Nazarene University | Mount Vernon (OH) | $7,156 |
| # 4 | Nicholls State University | Thibodaux (LA) | $8,250 |
| # 5 | Northwestern State University of Louisiana | Natchitoches (LA) | $9,600 |
| # 6 | King University | Bristol (TN) | $10,455 |
| # 7 | University of North Dakota | Grand Forks (ND) | $11,102 |
| # 8 | Briar Cliff University | Sioux City (IA) | $11,250 |
| # 9 | Saint Joseph's College of Maine | Standish (ME) | $11,340 |
| # 10 | Troy University | Troy (AL) | $11,640 |
---
---
---
Common Bachelor of Social Work Courses
BSW programs give students the knowledge, skills, and experience to enter the workforce as social work generalists. The coursework introduces students to social work theories, policies, and strategies, which they can eventually use to help individuals and communities thrive. Graduation requirements often include supervised practice hours that occur over the course of one or two semesters. The following list describes some standard classes that may be included in a BSW program:
Human Behavior: A course on human behavior focuses on understanding how people act and respond to external factors. The coursework explores how psychological, biological, and social factors may influence and motivate human behavior. Students may also learn about mental health and behavioral disorders.
Introduction to Social Work: Built around the core concept of influencing change in challenging situations, this introductory course provides an overview of the primary values and practices associated with social work. The coursework explains the key principles and practices that guide this profession and addresses contemporary issues, such as diversity and social justice.
Social Welfare Policy: In this course, students gain a deeper understanding of social policies designed to protect people from poverty while promoting their well-being. The coursework covers policies related to fundamental issues and populations, including mental health, healthcare, child protection, and eldercare.
Social Work Generalist Practice: This essential skill-building course often lasts two or more terms. Moving beyond theory, students can practice intervention methods and processes while delving into ethical issues that deepen their understanding of integrity, dignity, and service.
Social Work Research: At the bachelor's level, this course introduces research methods that apply to social work programs and practice. Students practice the key steps involved in research, which include the following: (1) formulate a topic, (2) gather data, (3) analyze evidence, and (4) apply the acquired knowledge.
---
Funding an Online Bachelor of Social Work
Whether a student earns their BSW online or on campus, they may be eligible for scholarships. Due to a shortage of social workers in certain areas, some state governments have established scholarships to encourage more people to enter the field. The state's Department of Higher Education has more information on grants, scholarships, and loan-forgiveness programs specifically designated for social work majors. Two national organizations — the CSWE and the National Association of Social Workers (NASW) — also provide several funding opportunities. Additionally, some humanitarian/religious organizations offer privately funded social work scholarships:
To offset education costs, some students are eligible for a variety of financial aid opportunities. Depending on financial need, a grant or scholarship may be available, which students do not need to pay back. Meanwhile, a federally funded student loan would probably have a lower interest rate and superior repayment terms than a private loan from a bank.
While attending accredited colleges, online social work majors are also eligible for federal, state, and school-sponsored financial aid. If interested, students should apply for financial aid by submitting the Free Application for Student Aid (FAFSA). Representatives from the federal government and university evaluate applications to determine qualification.
There may be some restrictions regarding eligibility for financial aid. For example, a student may have to attend classes full time, have in-state residency, or enroll with an accredited school to be eligible. For more information, students may contact the financial aid office at their chosen school.
---
Related Articles
2023 Most Affordable Online Colleges & Degrees
The top affordable online colleges of 2023. Find cheap online associate, bachelors, master's, and doctoral degrees.
2023 Most Affordable Online Bachelor's Degrees
Find the most affordable online bachelor's degree programs in the country for 2023. We highlight cheap online colleges with high alumni salaries.